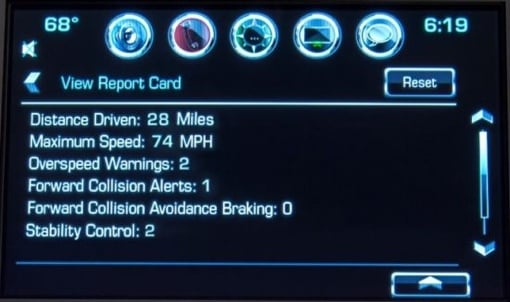 If you have a teenager who's just learning how to drive or recently got his or her license, then you've likely spent a few sleepless nights worrying about their safety. Sure, they're probably great drivers when you're in the car, but what happens when they're with their friends? To paraphrase former president Ronald Reagan, when it comes to teen drivers, you want to trust … but verify. New tech built into the 2016 Chevrolet Malibu, simply called Teen Driver, allows you to do just that.
The Teen Driver car safety system encourages good driving habits by tying them to the proper operation of the car's sound system. If your teen doesn't fasten his or her seatbelt, the radio simply won't work. If your teen exceeds the maximum speed you set the vehicle to allow, they'll get audio and visual warnings over the multimedia system. You can also restrict the maximum volume of the car's radio, in case you're worried about blaring music distracting them from the road.
Data-minded parents, meanwhile, have access to a number of monitoring tools through Teen Driver. You can track your teen's miles driven, maximum speed, the number of over-speed warnings, antilock brake events, forward collision alerts and forward collision braking events. The system is enabled by entering a PIN into the car's MyLink system, and is linked to your teen's keyfob.
"We developed this system so parents could use it as a teaching tool with their kids – they can discuss and reinforce safe driving habits," explains General Motors safety engineer MaryAnn Beebe. "As a mother of two, I know anything that has the potential of keeping one's family safer is of great value to parents."
Teen Driver is not subscription-based, so there's no monthly fee to use it. The feature will be standard on Premiere trim and options on LT models if equipped with the Convenience Package and up-level radio. The 2016 Chevy Malibu will be available for sale by the end of the year.
You can learn more about Teen Driver by watching the short YouTube video below.
[Image credit: Chevrolet]