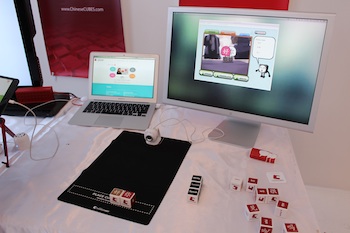 When kids are learning something new, like a second language, they're often helped by combining tactile and audible input. Learning to recognize a character by looking at it on a piece of paper takes longer than drawing the character correctly a few times. Show a child a flashcard again and again, and eventually they'll retain the data; hand the child a flashcard and memorization happens much sooner.
That's the basic idea behind Chinese Cubes, a language learning system that lets students manipulate physical cubes in front of a webcam, which in turn uses augmented reality to lead the lessons. All you need is a computer and a few minutes each day.
The only big drawback to the AR Cubes is that they're portable but not mobile. You can't whip them out on a train, while waiting in line or during a long car trip. So the Chinese Cubes team has developed parallel learning tools that kids and adults can use wherever they are with a tablet or smartphone.
CUBEBooks teach Chinese via interactive e-books that include games and activities, similar to working with the AR Cubes. Drag and drop virtual cubes to construct words or phrases, hear the pronunciation and see the Pinyin transcription. There are also lessons on how to write Chinese characters that parallel the lessons in the AR/desktop versions.
CUBEBooks range from straightforward lessons on specific themes (like business) to kids' books, comics and more.
Learning Chinese doesn't have to be a solitary activity, even if your child is the only one in her peer group with the Cubes. The website offers a free learning portal where you can keep track of the progress you're making with the AR Cubes and CUBEBooks, chat with teachers and other students to get help or practice and keep track of the eBook library.
The overall cost of Chinese Cubes is reasonable, particularly when you compare it with industry leader Rosetta Stone. The Chinese Cubes AR starter pack includes 40 character cubes and 64 lessons and teaches you to carry on basic conversations and ask simple questions — enough to get you through a vacation. A booster pack with an additional 160 character cubes and more than 200 lessons will make you far more fluent.
Or, you can focus on CUBEBooks only. There are over two dozen available for iOS right now (coming to Google Play for Android devices this spring), and more are on the way. Many are free, while others cost up to $8, and most will teach basic all the way up to advanced lessons.
Price: $149 (starter pack) to $399 (starter pack plus booster) at chinesecubes.com