A newly-found bug in the Chrome desktop browser lets hackers take over your computer; so you should stop what you're doing and update Chrome right now. This exploit is currently part of the Mac and Windows desktop versions of the browser. It's a particularly dangerous exploit because it doesn't require you to do anything wrong. Simply visiting a website with malicious code can let a hacker remotely execute code on your computer.
That could mean a lot of bad things, including a hacker completely taking control of your computer. By the time you realize you are on a fraudulent website, you could already be compromised and lose everything on your computer.
Fortunately, the bug is very easy to fix, because Google just put out an update to stop this bug in its tracks. If you have the Chrome browser, you should update it immediately, which is a pretty simple process. Chrome typically keeps itself updated, but to do so, you have to close and reopen the browser. This can be a problem for anyone who tends to just leave their browser open, thus accidentally leaving themselves open to threats like this one. If you're the sort of person who just leaves their web browser running in the background, your browser may not get updated often.
How to see if your Chrome browser has been updated
To see if your Chrome browser is up to date, look at the upper right corner of your Chrome browser. If you see a red, orange, or green icon where you usually see the triple dots, you need to update Chrome. Green means the update was released less than 2 days ago, orange means the update was released less than 4 days ago and red means the update was released 4 or more days ago. Click on the colored icon and the select Update Google Chrome. Your Chrome browser will restart. If you don't close your open tabs, Chrome will reopen them for you when it restarts.

If you want to double check:
Click the three vertical dots upper right corner of your browser.
Click Help at the bottom of the menu that pops up and then select About Google Chrome.
Chrome will automatically check for updates.
If it's already applied the patch, it will tell you "Google Chrome is up to date," and show Chrome running version 76.0.3809.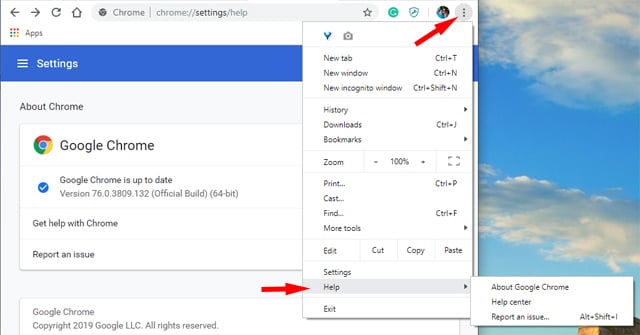 To avoid bugs like this, keep your software up to date at all times, so all of the latest security patches are installed. Both your operating system and the individual apps you run should have options to auto-update, and after you update Chrome, you should be sure auto-update is turned on for any other apps you use. Otherwise, it would be all too easy to find yourself caught up in the next dangerous software exploit.
[Image credit: Google chrome browser on laptop via BigStockPhoto, screenshots via Techlicious]