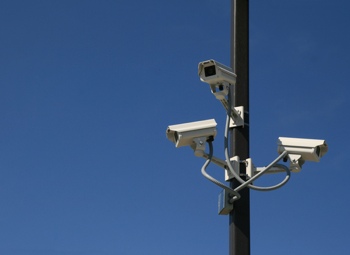 The city of Compton is a notoriously hard and troubled part of Southern California. Though nowhere near as violent as it was during the gang and crack epidemics of the late 1980s and early 90s, Compton is still arguably the most dangerous part of the Los Angeles area.
It should be no surprise, then, that Compton was home to one of the most aggressively anti-privacy police surveillance test schemes in the country. According to a report by The Center for Investigative Reporting (CIR), the Los Angeles Sheriff's Department in 2012 used a mix of fixed and plane-mounted cameras to create its own "Google Earth with a rewind button," putting virtually all public areas of the city under constant recorded surveillance.
"We literally watched all of Compton during the time that we were flying, so we could zoom in anywhere within the city of Compton and follow cars and see people," explains Ross McNutt, owner of Persistent Surveillance Systems, the company behind the camera system. "Our goal was to basically jump to where reported crimes occurred and see what information we could generate that would help investigators solve the crimes."
Indeed, in one instance, cameras were able to track a necklace thief from the scene of the snatching to his waiting getaway car blocks away. Cops were then able to track that car's movements until it disappeared from city limits, even long after the crime happened.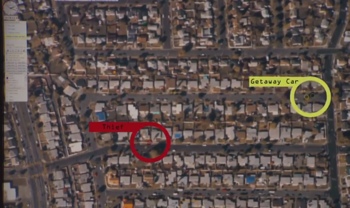 Certainly police surveillance is nothing new. But modern technology gives police more aggressive ways of tracking suspects and law-abiding citizens alike. The use of facial recognition tech is on the rise, with the FBI building a database of over 52,000,000 Americans' faces. And Forbes magazine revealed last year that private companies are getting rich selling data about your car's location, along with photographs, to police departments looking to issue tickets for registration violations. Cameras and data storage are inexpensive, and so far, courts have held that this type of police spying is constitutional.
So, if everything is on the up and up, why did it take the public so long to learn about the 2012 surveillance test? The answer probably comes as no surprise: Because police knew the public wouldn't like it.
"The system was kind of kept confidential from everybody in the public," LA Sheriff's Sgt. Doug Iketani told the CIR. "A lot of people do have a problem with the eye in the sky, the Big Brother, so in order to mitigate any of those kinds of complaints, we basically kept it pretty hush-hush."
To learn more about LA's constant surveillance service, being marketed to police departments around the country, take a moment to read the CIR's report: Hollywood-style surveillance technology inches closer to reality. For even more information, you can check out the lengthy video report below.
[Surveillance cameras via Shutterstock; Compton crime tracking via CIR]