The holidays may be over, but the post-holiday sales are on their way. If you received any gadget gifts this holiday season, Amazon wants to help you load them up with content with its Digital Day sale. As the name implies, you'll find tons of digital content at prices up to 50% off. On offer are over a thousand TV shows, movies, music, apps, e-books and games for both mobile and consoles. That makes Digital Day the perfect time to snatch up all kinds of content for your tablet or smartphone to entertain you well into the new year.
While Amazon's big sales haven't always wowed shoppers with must have items, the deals we know about so far will be of interest to families with kids:
Popular mobile games including Nickelodeon's Paw Patrol Rescue Run and Blaze and the Monster Machines for 50% off
Popular kids apps including Sesame Workshop, Dr. Panda and Toca Boca for $0.99
Subscriptions to Amazon Rapids for 33% off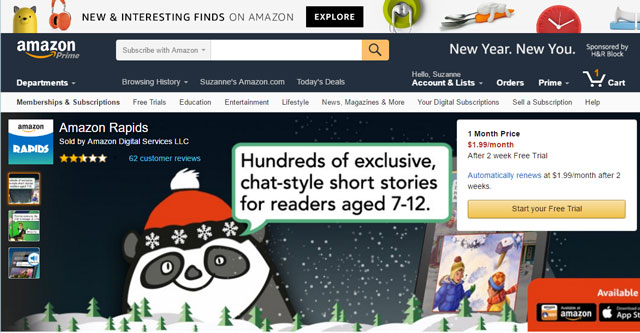 If you aren't familiar with Amazon Rapids, it's a unique reading program, featuring hundreds of original, illustrated short stories. Each story is told in a chat-style interface that shows dialog between multiple characters—with a built-in glossary to help kids learn new words and a "say it" feature that reads words aloud to help them learn pronunciation. It's an interesting new way to engage kids in reading, and it's regularly priced at $2.99 a month (with a two-week free trial). It reminds us a bit of Amazon's FreeTime Unlimited subscription—which has the same $2.99 price tag—except Rapids has original stories in an interesting format, which may engage your child more than FreeTime Unlimited's more traditional e-books.
More grown-up friendly content will be available too, with deals promised on Microsoft's Office Suite, comics from Comixology, and major game titles like Skyrim, Fallout 4 and Destiny.
The sale goes live on December 30 at 12AM PST and lasts just 24 hours, so you'll want to jump on the deals while they're hot. But while the best deals will be on the 30th, Amazon promises early digital specials starting now—so keep your eyes peeled for sales.
You can sign up for email updates about Digital Day on Amazon to keep up with the latest offers.
Happy shopping!
[Image credit: Amazon]