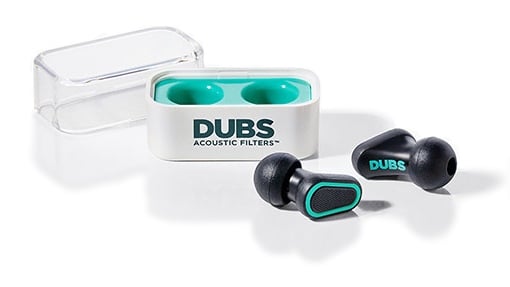 We talk a lot about advancements in headphones and earbuds here at Techlicious, but earplugs have made a number of technological leaps these days as well. Need proof? Look no further than the new DUBS Acoustic Filters from Doppler Labs – they're designed to protect your ears from damaging levels of sound without sacrificing its fidelity.
"Until today, even with all of the recent advancements in tech and design, earplugs have never evolved: they still muffle sound, look like unstylish medical products and are uncomfortable," says Noah Kraft, CEO of Doppler Labs. "Now with the DUBS, you can protect your ears without sacrificing sound fidelity, style or comfort. You no longer have to choose between hearing protection and a quality experience."
As you might expect, acoustic engineer-designed DUBS Acoustic Filters are a lot more than the usual shaped pieces of foam that pass for earplugs these days. They're made of 17 individual parts – premium materials like stainless steel, ABS, polymer foam and silicone. But at the same time, they're inexpensive, no bigger than traditional earplugs and still small enough to fit in your pocket.
DUBS Acoustic Filters work through a process called dynamic attenuation. Sound flows through a combination of high and low pass filters, targeting specific frequencies to reduce volume while maintaining clarity. On average, you can expect a pair of DUBS to cut volume by 12dB, enough to make the difference between safe listening and hearing damage.

Aside from function, its style that really makes DUBS Acoustic Filters stand out. They look more like an ultramodern Bluetooth accessory than a piece of safety equipment. DUBS are perfect for concerts, nights out in a noisy club or anywhere else you might be self-conscious about your appearance. Then again, is there really any scenario where an ugly piece of yellow foam sticking out of your ear is appropriate?
DUBS Acoustic Filters are available in four colors (teal, blue, pink and white) carry an MSRP of just $25. You can order your pair of DUBS Acoustic Filters today by visiting the company's website at www.getDUBS.com. You can also purchase a pair in retail stores like Best Buy beginning November 3.