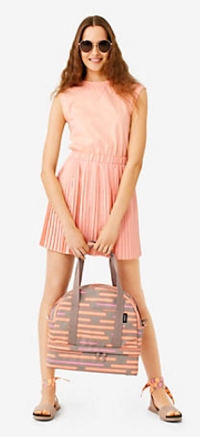 Window shopping will never be the same. Starting June 8 and lasting through July 7, online auction house eBay will be teaming up with designer Kate Spade to open a number of high-tech 24-hour Window Shops in New York City designed to bridge the gap between online shopping and brick-and-mortar retail.
The new Window Shops aren't traditional stores, per se – they're just large interactive video billboard screens installed in the windows of vacant store locations throughout Manhattan. Screens measure 9 feet across by 2 feet high, and contain a selection of 30 items from Kate Spade Saturday, the designer's new weekend-friendly casual clothing line. If you find something you like, you can pay through eBay's PayPal Here service and have your designer gear delivered by courier anywhere in New York City in under an hour.
With this effort, Kate Spade and eBay are clearly trying to capitalize on the new trend of same-day delivery for items bought online. Amazon.com has found much success with its efforts to provide same-day delivery via lockers found in convenience stores, supermarkets, and similar 24-hour locations. Even big box retailer Walmart has seen success in the game, letting its online shoppers pick up their purchases the same day via a similar in-store locker system. It's not hard to imagine a future – one coming sometime soon – where all purchases made online are delivered within hours of when you order them.
The first four Window Shop locations will open this coming Saturday across the Lower East Side and Soho neighborhoods of New York. For more information about when and where the shops will be, follow Kate Spade Saturday on Twitter.