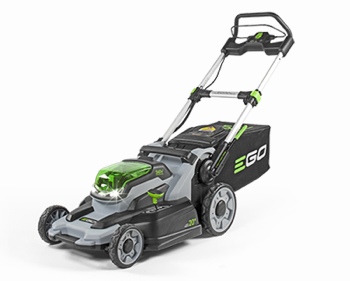 If you're looking to avoid the fumes and noise of the traditional lawn mower this Spring, you may want to make a visit to your local Home Depot. This week, the retailer announced that it will carry the new EGO line of electric yard tools including a foldable, cordless lawn mower so quiet it won't wake the neighbors.
What makes the EGO line special is its use of a newly developed, incredibly powerful 56-volt lithium-ion battery. After a quick 30-minute charge, the EGO Cordless Lawn Mower will be ready to use with no cords and no noise. The mower is so quiet, in fact, that it comes equipped with headlights so you can mow in the dark.
Many electric yard tools can struggle with a big job, but according to Popular Mechanics, the 61-pound EGO push mower exceeded expectations, "providing 45 minutes of consistent cutting power and repeatedly filling its bag with grass clippings and shredded leaves." Popular Mechanics also praised the ease of use of the mower's spring-assisted single-lever height adjustment.
The EGO 56V Lithium-ion Cordless Lawn Mower is available for purchase exclusively in Home Depot stores and at homedepot.com for $499. A cordless blower, string trimmer and hedge trimmer, all powered by the same type of 56-volt battery, are also available.
For more on the EGO line, visit the company's website or watch out the promotional video below. If you'd rather stick with a traditional gas mower this year, I recommend you check out the new Toro Recycler with SmartStow – it's the first gas mower that can be stored vertically.