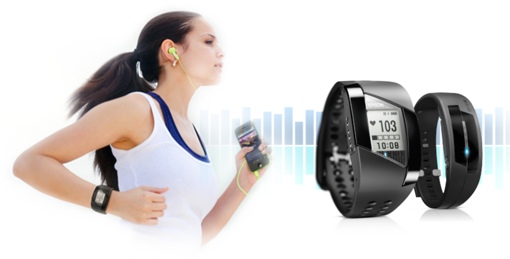 Need more evidence that fitness tracking is this year's biggest trend? Epson – yes, the printer company – announced today its new Pulsense Watch and Pulsense Band.
The devices continuously measures your pulse (optical), calories burned and steps as you might expect, syncing to your PC or smartphone via Bluetooth. The key differentiating feature here seems to be its back-to-basics LED fat burn indicator – a simple, lower tech way to get the most out of your cardio. The devices store can up to 480 hours of heart rate data between synchronization, and boasts "the longest battery life of any wrist-worn continuous heart rate monitor."
In short: The Epson Pulsense line is a worthy attempt at entering the activity monitor space, but it's unlikely to steal the top activity monitor honors from Techlicious's favorite, the Fitbit Flex.
Both the $199 Epson PS-500 Pulsense Watch and $129 Epson PS-100 Pulsense Band will be available later this month. You can pre-order your choice at the Epson website.