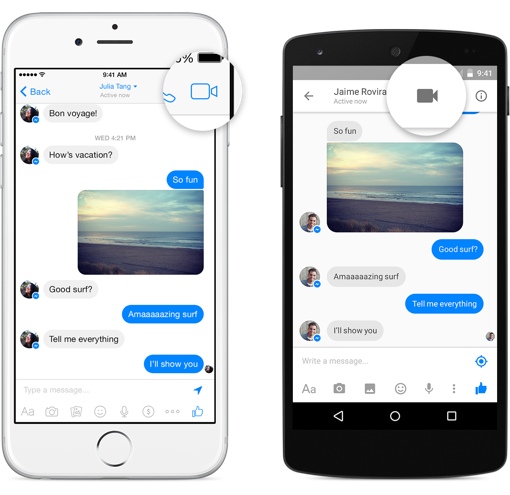 Looking for a fun, easy and free way to communicate with friends and family from around the globe? Today, Facebook Messenger introduced a new video calling feature that lets you connect with people face-to-face with the tap of a finger.
"Messenger already offers people the ability to make voice calls to friends and loved ones around the world," says Stan Chudnovsky, Head of Product for Facebook Messenger. "Video calling will expand Messenger's real-time communication features, enabling the more than 600 million people who use Messenger every month to reach others wherever they are, from anywhere. It's fast, reliable and high quality."
Video calling is available to Messenger app users by tapping the movie camera icon in the top right-hand corner of Messenger chats. If you don't see the icon, you may need to update the Messenger app to the most recent version. The feature is only available to those on mobile phones trying to reach other people currently using mobile phones, though Facebook notes that it'll work even if you're using Apple iOS and your friend is on Android (and vice versa). There's no charge to video chat, but it is worth noting that video uses a lot of data and can chew through your mobile data plan fast.
For now, Facebook Messenger's video calling feature is available in a handful of countries, including the U.S., Canada, Belgium, Croatia, Denmark, France, Greece, Ireland, Laos, Lithuania, Mexico, Nigeria, Norway, Oman, Poland, Portugal, the U.K. and Uruguay. The feature will be rolling out to other regions and countries soon. To learn more, visit the Facebook Newsroom blog or watch the short promotional video below. You might also want to check out Hello, Facebook's new Android caller ID app that automatically blocks telemarketers from calling your phone.
[Image credit: Facebook Messenger]