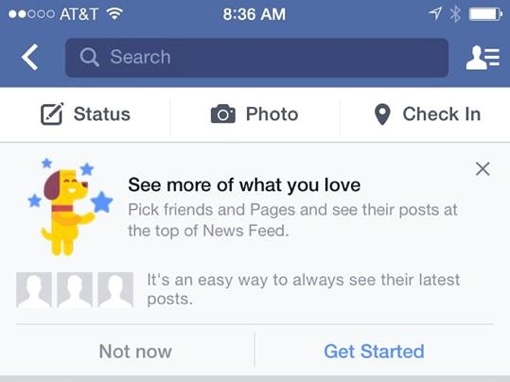 Facebook is giving some of its members the power to customize their News Feeds. According to Ad Week, the social networking site is allowing some users to select friends and pages for priority treatment in the News Feed.
"See more of what you love," entices a new pop-up experienced by a limited number of users of the Facebook mobile app. "Pick friends and Pages and see their posts at the top of the News Feed. It's an easy way to see their latest posts."
"We are always exploring new ways to improve the Facebook experience, and are currently running a small test of a feature that lets you indicate that you'd like to see posts from a specific person or Page at the top of your News Feed," the company confirmed in a statement.
Currently, Facebook constructs your News Feed by use of automated computer algorithms. The site guesses what content you'd be most interested in seeing by analyzing what you've Liked, whose profiles you've visited, what you've commented on and even what your friends are doing on the site. You can opt in to receiving notifications when certain friends post content on Facebook, and you can report posts to clue Facebook in on what you'd prefer not to see, but there's no easy way to customize your News Feed to exacting specifications.
It's somewhat surprising that it's taken Facebook so long to offer such an important, basic feature. As the site has grown into a multi-billion-member behemoth, it has relied more and more on algorithms, operating as if it knows more about what you want than you do. The result has been disappointing: A social network filled with hoaxes and viral nonsense from people we don't care about, rather than seemingly "less important" posts from people close to us. Why is it so easy to control who sees our Facebook posts, but so difficult to control whose Facebook posts we see?
Again, per standard Facebook operating procedure, this new feature will only be available to a small number of users on a test basis. If it proves successful – and we can only assume it will, giving how we're itching to use it – hopefully it will roll out to all users soon. Until then, all we can do is wait.
Want to learn more about Facebook and how the site operates? Check out these 10 Facebook Hacks You Probably Don't Know About and 5 of the Biggest Facebook Mistakes and How to Fix Them. You might also want to check out the newest Facebook features announced at this year's F8 developers convention.
[Image credit: Facebook]