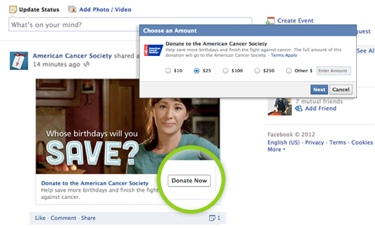 The holiday season is prime time for donating to charity. This year, social network Facebook is making giving just a little bit easier with its new Donate feature.
"The Donate feature will appear beside Posts in News Feed shared by participating nonprofits and at the top of their Facebook Pages," the company explained. "When people click 'Donate Now' they can choose the amount, enter their payment information, and immediately donate to that cause." Facebook will email you a receipt for your tax return.
In total, Facebook has partnered with 19 different non-profit organizations for its new effort. These charities embrace a wide range of causes, from the American Red Cross to the World Wildlife Foundation. More will be added "soon."
One nice feature about giving to charity on Facebook is that 100% of your donation goes to the charity of your choice. Another great feature: You can share the fact that you made a donation with your friends on the social network, which will hopefully inspire them to open their pocketbooks as well.
More details on Facebook's new Donate feature are available via the Facebook newsroom.