It seems like there's a day for everything. Today, it happens to be National Pizza Day, National Bagel Day, National Toothache Day and Safer Internet Day. While the first three are pretty frivolous, we can all stand to make our internet-connected lives more secure. In that spirit, today only Google is giving away 2 GB of free cloud storage to anyone who performs a Security Checkup on their account.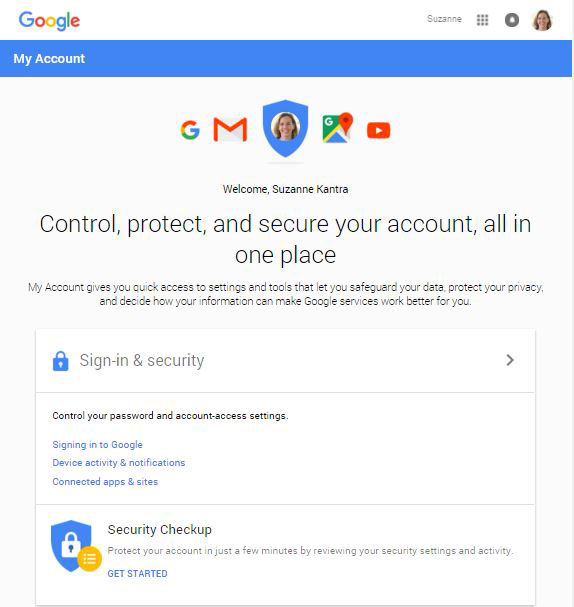 It's really easy to begin the Security Checkup. Go to the My Account page and click "Get Started" under the Security Checkup heading (you'll be prompted to sign in if you're not already signed in). You'll be directed to input your password again, just so Google knows it's you, and you'll be directed to a page that features six Security Checkup steps.
First, you will check your account recovery information. If Google notices your account is doing some out-of-the-ordinary things or you become locked out of your account, the recovery phone and recovery email will allow Google to contact you or confirm your identity to help restore your account.
Next up is the recent security event tab. If you've recently changed your password, added a recovery email or changed a crucial part of your account info, it will be listed there. If you see something that doesn't look familiar, you'll be directed to contact Google to figure it out.
After that, the Security Check takes you to a list of all of your Google account-connected devices, along with the locations where they were used and the browsers on those devices that are logged into your account. Once again, if there's anything suspicious listed, you'll have a chance to contact Google.
For most people, the previous three steps won't throw up any red flags. In terms of my own account security, I found that the account permissions step definitely did. When you set up an account or app using your Google account, you sign off on the actions that the service or app can do using your account on your behalf. Some of these are pretty benign, and allow access only to basic account info. Others, like Google Chrome, have full access to your account. There were apps in my Checkup that I don't even remember signing off on, so I was glad I had a chance to revoke access to them.
The last steps revolve around 2-step verification, the added level of security that makes it so logging in requires your password and a second passcode. Everyone should be using it to protect their identities. If you've turned on 2-step verification, you'll be able to make sure the verification settings are up to date and change them if necessary, as well as approve or revoke any of your created app passwords. To ensure your security in the programs that don't use 2-step verification and are, therefore, less secure, Google creates a separate password entirely. For example, i use the Calendar app on my iPhone, but all of my events are stored under my Google account. I had to create my own app password for the account and the iPhone Calendar app to be integrated together.
Once you complete these steps, you're done! That 2 GB of extra storage will be added to your Google Drive.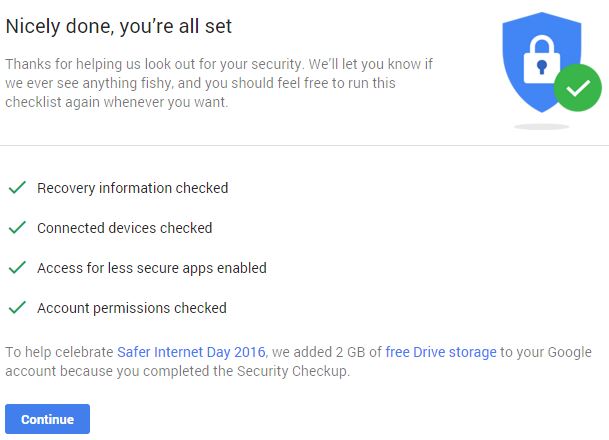 There are a whole lot of other privacy and security tips where that came from; check out our other articles on the matter to keep yourself protected online.
[Image credit: Google]