If you have issues trusting the authenticity of images you encounter, you are not alone. A recent survey by Poynter revealed that 70% of respondents expressed low confidence in their ability to discern whether an image was genuine or manipulated.
To assist people in distinguishing fact from fiction, Google has introduced a new feature in Google Image Search called "About this image." "People come to Google Search to verify information they've heard or seen elsewhere," Nedhi Hebbar of Google told me as the rationale behind creating the tool. To aid in uncovering the truth, "About this image" provides crucial information, empowering you to make better decisions about an image's provenance.
How "About this image" works
There are three types of data you'll find about an image when you use the "About this image" tool.
Image history
You'll be able to see when Google first "saw" the image. So, if the timing of when an image was captured is important, you'll know if an image is being taken out of the context of when and where it was shot.
How sites are using and describing the image
You'll see a range of sources that are using an image, including news sites and fact-checking sites. Hebbar asserts that Google is not using any personalization to show you these other sources – everyone would see the same sources.
Image metadata
When you take a photograph, information about where the image was captured, what type of device was used, and other data is saved alongside the image. Likewise, when an image is generated or enhanced by AI, that information can be captured. Google looks for IPTC (International Press Telecommunications Council) photo metadata, so you'll see digitally enhanced photos with the following tags:
trainedAlgorithmicMedia: The image was created using a model derived from sampled content.
compositeSynthetic: The image is a composite that includes artificial elements.
algorithmicMedia: The image was created purely by an algorithm not based on any sampled training data (for example, an image created by software using a mathematical formula).
All Google AI-generated images will have this data in the original file, and Google is encouraging others to include it as well.
Read more: Did you know that you can use an image and text at the same time to search? Find out how.
How to use "About this image"
Google is starting to roll out the "About this image" feature in all English-speaking countries worldwide. When it's available, you'll find the feature when using Google's Image Search page.
When you click on a search result, you can open the item's menu (triple dots) and select "About this image."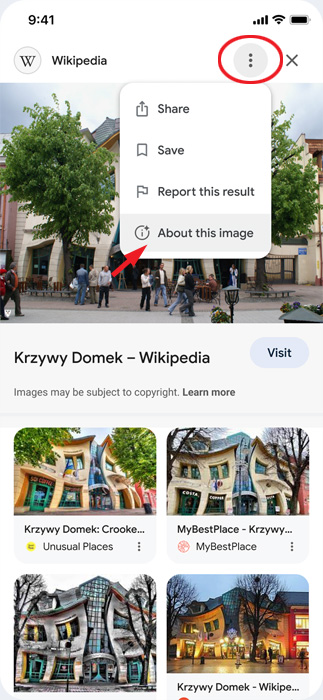 On the "About this image" page, you'll see additional information, including when Google "saw" the image and other sources that have used the same image.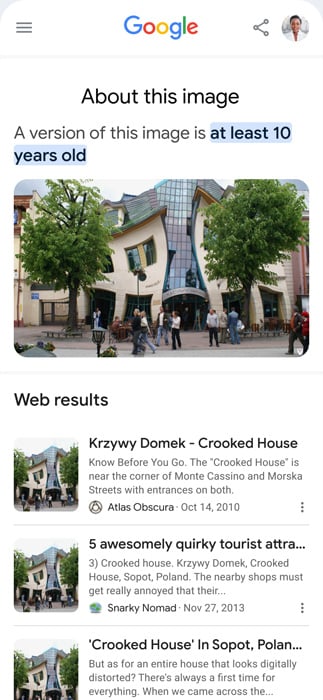 Read more: Find out how to shop more effectively using Google Search.
"About this image" isn't the only tool Google has rolled out to combat misinformation. Among the initiatives is a tool called "About this result" in the menu (triple dots) for regular search results. "About this result" will tell you a little about the source and provide links to more information about the source.
Tools like "About this image" and "About this result" reduce the guesswork involved in discerning the authenticity of news, providing history and context to enhance your understanding of what you see and read.
[Image credit: screenshots via Google, phone held in hand mockup via Canva]
For the past 20+ years, Techlicious founder Suzanne Kantra has been exploring and writing about the world's most exciting and important science and technology issues. Prior to Techlicious, Suzanne was the Technology Editor for Martha Stewart Living Omnimedia and the Senior Technology Editor for Popular Science. Suzanne has been featured on CNN, CBS, and NBC.