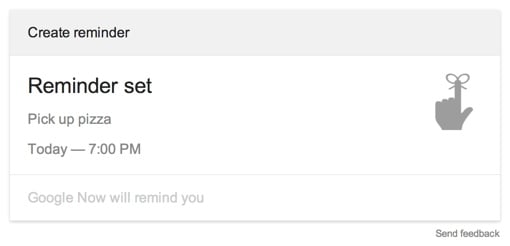 Google is bridging the gap between your home PC and your smartphone just a little bit further. This weekend, the company added the ability to create Google Now reminders for your smartphone directly from your PC's Google Chrome browser search bar.
All you need to do to set the reminder is to type one in conversational english starting with the phrase "add reminder to...". You can have Google deliver a simple message at a predetermined time – "add reminder to pick up a pizza at 7pm," for example. Or, you add the actual location of the pizza restaurant to the reminder instead, which will tie it in to other Google services like Google Maps traffic alerts.
The new feature is great for owners of Android smartphones, many of which rely on the built-in Google Now platform for smart notifications and reminders. Apple iPhone owners won't find Google Now features built in, but you can add Google Now as a free app via the Apple App Store.
You can give the new feature a try now by signing in to your computer's Chrome web browser and typing a reminder in the search bar. You might also want to check out these 3 alternative options for creating reminders on your phone.