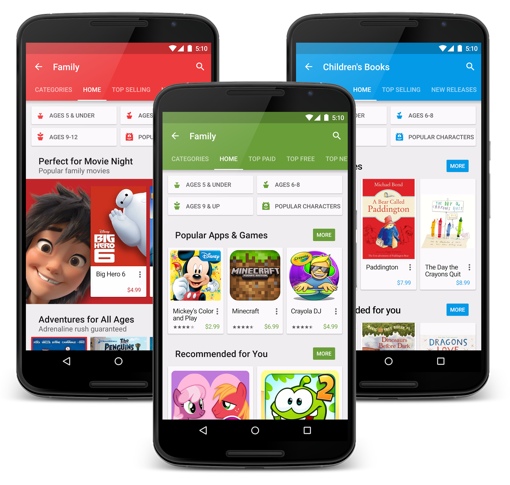 There's news for families out of the Google I/O developer's conference today: Google Play is getting a family-friendly update designed to make it easier than ever for parents and kids to find age-appropriate content on mobile devices. Its rollout is happening now in the U.S., and should be available on your device soon (if not available already).
The most important new family feature coming to Google Play is the Family button, accessible via the Apps, Games and Movies & TV pages. It acts as a filter that makes it easier for to browse for apps based on your kids' ages and interests. The Family button also lets you access the top charts by age group, so you can see what apps are popular with other kids aged 5 and under, ages 6-8 and ages 9 and up.
Kids, meanwhile, will probably be more interested in Google Play's new character-based search. The new feature allows them to specifically search for apps that contain Mickey Mouse, SpongeBob SquarePants, Barbie, Dora the Explorer and most of their other favorites. It also makes it easy to find content related to popular kids movies, like Frozen and Star Wars.
Inside individual app listings, Google Play has added Family Stars, graphical icons designed to aid your understanding of which games are appropriate for which age groups. Labels are being added for ad-supported games, so you can better avoid commercialized content if you so choose. And Google is also touting "updated parental controls," which will allow you more controls over what your child is allowed to download on his or her own device.
These new features are being rolled out to Google Play today for users in the U.S., those in other countries will see them rolled out over the next couple weeks. For more information about Google Play's family features, visit the Android Official Blog announcement page.
[Image credit: Google]