Most of us pay little attention, if any, to the product ads Google serves when performing searches using the search engine. That may be about to change thanks to a small but smart update: Google announced this week that it is adding product ratings to its Product Listing Ads.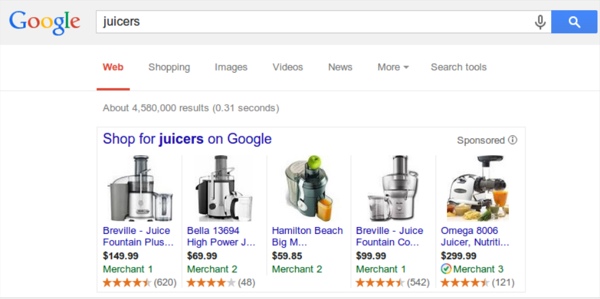 "Shoppers in the United States will see product ratings appear in the form of stars and review counts on Product Listing Ads across google.com and google.com/shopping," explains Google Shopping Product Manager Mike Capsambelis. "This 5-star rating system represents aggregated rating and review data for the product, compiled from multiple sources including merchants, third party aggregators, editorial sites and users."
Google is planning on offering review data for all listings through October 2014. After that point, Google will only show ratings from merchants who agree to share their review data. Of course, as the Wall Street Journal notes, there are questions as to how many retailers will agree to hand over their proprietary reviews to help lower-priced competitors make a sale.