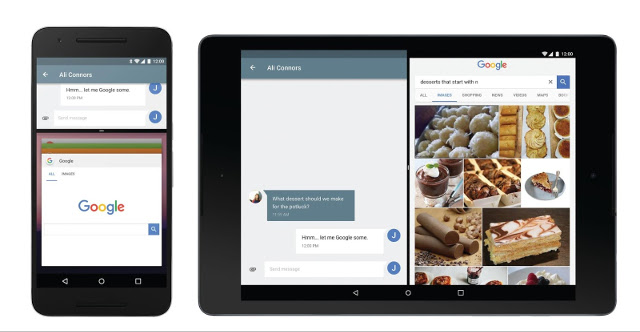 Barely a year has passed since Google announced Android 6.0 Marshmallow in May 2015, yet the company is already releasing its successor, currently code-named Android N.
The new version of Android is a preview build intended for developers rather than general consumers, so it's not yet quite ready for daily use. Google has previously released such preview builds at its Google I/O developers conference each summer, but in an unexpected turn of events, the company released Android N months ahead of the traditional schedule.
What fresh features can you look forward to in Android N? We think you'll like multi-windows, which lets you open and use several apps at the same time for more efficient multitasking. The app windows can be displayed in split-screen fashion either horizontally or vertically. On TVs, you can activate picture-in-picture mode so you can use another app while continuing to view the video playback in a smaller window.
Notifications in Android N are slated to become more interactive. You'll be able to reply to messages right on the notification shade without having to open the source app. Android N allows app developers to group their app's notifications, a helpful step toward keeping the notification shade clutter-free.
Doze, the under-the-hood battery-saver that launched with Android 6.0 Marshmallow, has been reworked in Android N to save even more juice when the screen is off.
The early release of the Android N preview gives Android developers more time to incorporate developer feedback before the final official release reaches device makers this summer, said Dave Burke, Google Android VP of engineering.
If you are adventurous enough to try Android N now, you can install the preview on your Google Nexus 6, Nexus 6P, Nexus 5X, Nexus 9, Nexus Player or Pixel C. If you feel the conventional download-and-flash method of installation is cumbersome, you can install Android N over the air, but you'll need to sign up first. If you don't own one of the Google devices mentioned earlier, you can preview the new OS using the official Android Emulator tool, which lets you run the software on your PC.
So what sweet treat does the prelaunch name "Android N" stand in for, anyway? Rumor has it that the official release will be named Nutella — although at this point, Nougat or Nerds wouldn't taste bad, either.
[Image credit: Android Developers Blog]