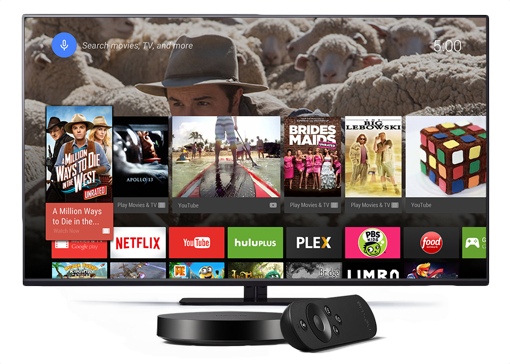 Looking for a Google-friendly way to make your television smarter? Today, Google officially introduced its new Nexus Player, an Asus-made streaming media device that puts your favorite music, television and movie services on any TV with an HDMI input. The 4.7-inch diameter device runs the Android TV operating system, and is expected to ship by the end of the year.
Of course, the Nexus Player is more than just a set-top version of Google's Chromecast device. It harnesses Google's predictive power to make personalized recommendations from Google Play, YouTube and other services. Most of your favorite apps are supported too, including Netflix, Hulu Plus, PBS Kids, HBO GO, WatchESPN, Pandora, iHeart Radio, Vevo and plenty more. If the wealth of options is too much, just use the included remote (or your phone!) to speak what you want to watch, from "Molly Ringwald movies" to "Oscar nominated films from 1987." Or, of course, you can use the Nexus Player to stream content from your Android phone or Chromebook to your TV.
Don't expect to just sit back and watch all the action, though – Nexus Player also offers a wealth of multi-player video gaming options. It allows you to seamlessly transfer games from your TV to your smartphone to keep the fun rolling on the road. When you're at home, an optional wireless gamepad will help you control all the action with precision. Games for the box are purchased through the Google Play store.
The Nexus Player will be going head-to-head this holiday against more established streaming media boxes including Apple TV, Amazon Fire TV and Roku. If you're comfortable with the Google operating system and own an Android smartphone, you'll likely get more mileage out of Android TV (and Google Cast) than with the competition. Apple fans, meanwhile, will likely want to stick to Apple TV for its AirPlay syncing feature.
Google's Nexus Player will be available for pre-order through the Google Play Store starting on October 17. The Player will be priced at $99, while the game controller will be available for $39. You can learn more about the Nexus Player and Android TV by visiting the Google website.