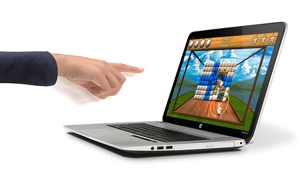 Computer manufacturer Hewlett Packard announced today its upcoming HP Envy 17 Leap Motion Special Edition laptop, the first to offer the built-in Leap Motion 3D technology that blurs the line between laptop and smartphone, all without need of a touchscreen.
Specifically, Leap Motion allows you to control a laptop using hand gestures, not unlike how the Microsoft Kinect works. It captures simple smartphone commands like pinch to zoom when made in the air, and translates them into commands for your laptop. That keeps your screen smudge-free without sacrificing much functionality – after all, the Leap Motion sensor is sensitive within a hundredth of a millimeter. Be forewarned, though: The Leap Motion sensor eats up a lot of battery life when in use.
Aside from the Leap Motion tech, the HP Envy 17 features a 1,920 x 1,080 pixel screen, up to 16GB of RAM and 2TB of hard drive space, Beats audio, dual USB 2.0 ports and HDMI output. You also get your choice of processors, up to an Intel Core-i7.
The HP Envy 17 Leap Motion SE will go on pre-order starting October 16 with prices starting at $1,049.99. If you'd rather not wait (or rather not buy a Hewlett Packard), you can buy a Leap Motion USB sensor to use with any computer for just $79.99 plus shipping.