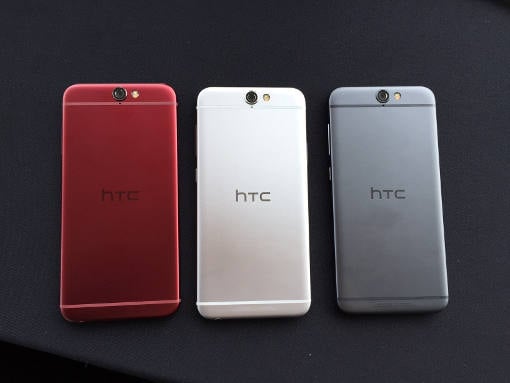 HTC today unveiled the newest member of its One series of Android smartphones, the HTC One A9, intended for sophisticated users who want the latest goodies of Android 6.0 Marshmallow combined with a smart, striking design.
The HTC One A9 may look remarkably like an iPhone, but it's not, in fact, a clone. HTC pioneered the all-metal body design before Apple, back in 2010 with the HTC Legend, and the HTC One A9 builds on that heritage. You'll hear a lot about HTC's so-called metalmorphics, the all-metal design with nature-inspired elements provides unique metal finishes with rich colors. The HTC One A9 comes in a thin, lightweight unibody metal frame in Carbon Gray, Opal Silver, Topaz Gold or Deep Garnet.
The HTC One A9's beauty is not just skin deep. It's the first non-Google, non-Nexus phone to ship with Android 6.0 Marshmallow (with an HTC Sense UI), so you can enjoy all the sweetness of Google Android's newest version, including mobile payments with Android Pay, Google Now on Tap for more in-depth information based on what's on your screen, better management of app permissions, fingerprint reader support, faster charging and landscape home screens. HTC is also using less of it's proprietary Sense software, which should make for faster updates when they come through from Google.
For bright and vivid display even under direct sunlight, the HTC One A9 sports a large, edge-to-edge 5-inch 1080p full HD AMOLED touchscreen, protected with the curved-edged 2.5 D Corning Gorilla Glass 4. That's larger than the iPhone 6s's 4.7-inch display and the extra 0.3 inches make a huge difference when reading text, watching videos and playing games. And, it's smaller than the other Android flagship models, which makes it much easier to use one-handed.
The phone's processing muscle comes from the newest 64-bit octa-core Qualcomm Snapdragon 617 chipset with built-in X8 LTE and with 2 gigabytes of RAM. That's slower than the HTC One M9, but still plenty speedy. You'll enjoy snappy app performance and fast LTE connectivity so you can stream hi-def movies and music and upload large files to the cloud without hiccups. Choose between 16GB and 32GB storage capacities; the One A9 can provide up to 2TB more storage with a microSD card.
The One A9 impresses with a 13-megapixel main camera with Optical Image Stabilization to significantly lessen the haze caused by shaky hands or vibrations. The UltraPixel secondary (front) camera is capable of great selfies even in low lighting, with a sensor that can let in 300 percent more light than standard smartphone camera sensors.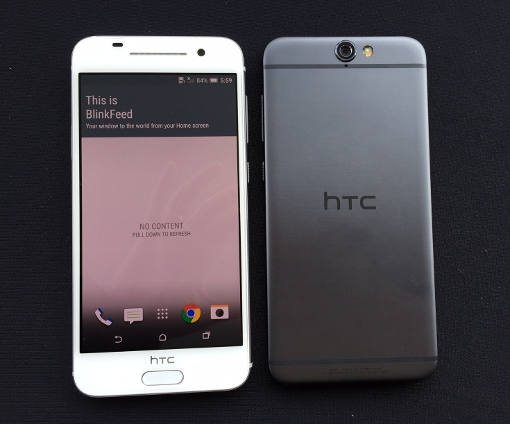 High-quality sound is a priority in the new phone. The HTC One A9 amps up sound quality with integrated HTC BoomSound in the headset, Dolby Audio surround sound technology and hardware support for 24-bit 192kHz audio output — that's better than CD quality. This powerful combination enables the One A9 to put out a dynamic range of sound with crystal clarity.
You might expect dismal battery life from such a powerful phone, but that's not necessarily the case with the One A9. To make its battery last longer, the phone comes with power-saving features that automatically shut down power-sapping apps when the phone is idle and intelligently turn off background apps when they aren't in use — two of the most common sources of battery drain.
When the phone does need a charge, use the optional HTC Rapid Charger 2.0 accessory to charge up to 75 percent faster than conventional 1-amp chargers. Although the One A9's 2,150-mAh battery isn't as big as that of the current flagship HTC One M9, Quick Charge technology gives you hours of power in just 15 minutes of charging time. The One A9 will support improved Quick Charge 3.0 technology when it's released soon, HTC said.
Preorder the HTC One A9 now on the HTC website. HTC will offer unlocked phones, priced at $399.99, that are compatible with the Sprint, AT&T, T-Mobile and Verizon. A soon-to-be-released software update is required for compatibility with the Verizon network; the update will also enable an LTE-only connection on Verizon (no CDMA needed) through a previously activated SIM, with full voice, data, SMS and MMS support.
[Image credit: Kantra / Techlicious]