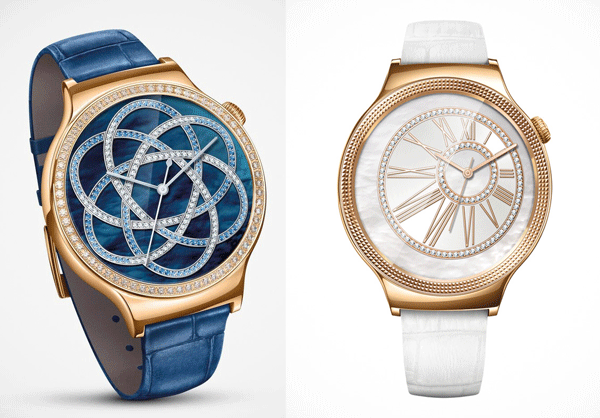 While you may not have heard much about it, Chinese tech company Huawei's business has been booming, making $20 billion in revenue in 2015. They've also had the highest smartphone market share in China since March 2015, and in global market share, they're currently in third place (behind Samsung and Apple). Slowly but surely, they've begun surging toward the U.S. market in the past year, manufacturing Google's Nexus 6P.
At CES this year, Huawei announced both their Mate 8 smartphone and two sparkly new additions to their Android Wear smartwatch line, dubbed the Elegant and Jewel, and marketed toward women.
These new Huawei Watches for women are pretty similar to the rest of the Huawei smartwatch lineup in function—the software is the same, they work with both Android and iOS phones and can be connected to Bluetooth headphones. The watches also have heart rate and motion sensors that can tracking activities like walking, running and mountain climbing. It's the form that's been dramatically changed. Both of the new women's watches have 44 mm stainless steel bodies plated in rose gold, along with scratch-resistant sapphire crystal displays. Huawei also added speakers to these new models so you can call your friends, just like James Bond might.
The Jewel (blue band) has 68 1.5mm Swarovski crystals along its face, which really seem to make a statement. The Elegant (white band) is a bit more understated, with a knurled pattern along the watch face circumference and a rose gold plating. There's no word yet on the band colors that are available.
The Huawei Watches will be available in March, the Jewel for $599 and the Elegant for $499. These watches are on the pricier side of Android Wear smartwatches, but their fanciness seems to necessitate that. Then again, these watches are aiming for the people who want the elegance of the Apple Watch Edition and the looks of a well-made, classic watch, but don't want to pay $10,000 or more. When you put it that way, the Huawei Watch Jewel and Elegant seem like a bargain.