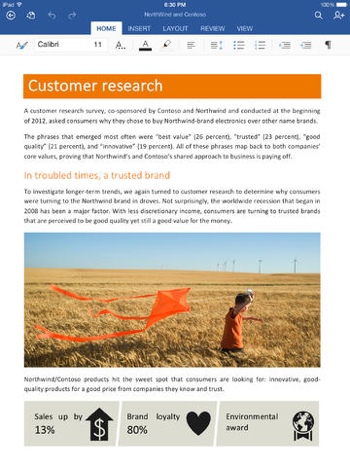 Nearly a year after releasing an iPhone-only verison of Office, Microsoft today unveiled a new version of Microsoft Office designed specifically for the larger Apple iPad tablet.
Microsoft Word, Excel and PowerPoint are being offered as three separate applications for the iPad. Each is free to download and use, so long as you're just viewing documents and giving presentations. Making edits will require you to pay for a subscription to Office 365, a service that starts at $6.99 per month.
Thankfully, Office for iPad is more than just a larger-screen version of the weak Office iPhone app. There's a much more robust set of editing and formatting features, and PowerPoint comes with a nice virtual pointer feature. You can see the app in action in the promotional video below.
Personally, I'm not a huge fan of the Office 365 concept – paying $6.99 per month (or $69.99 per year) for word processing and other basic computing features seems silly when there are so many cheaper (and compatible) options available. But if you're part of a larger professional organization, then the always up-to-date and increasingly mobile Office 365 makes a lot more sense with the release of these apps.
In any case, if you own the desktop version of Word, Excel or PowerPoint, or even if you just get a lot of files emailed to you, it makes sense to give the free Office for iPad suite a download. You'll find each of Microsoft Word, Microsoft Excel and Microsoft PowerPoint available on the Apple App Store.
To learn more about the Office 365 service, visit the Microsoft website.