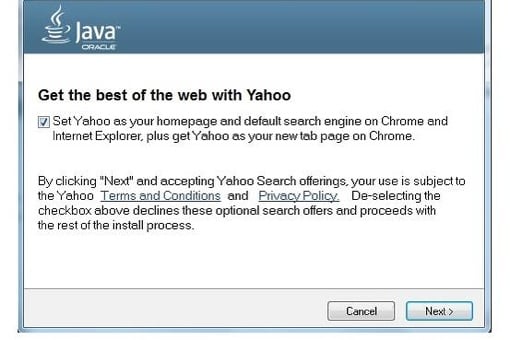 This week, once-great search giant Yahoo announced a new partnership with Oracle: Every time you update Internet plugin software Java on your computer, the updater will make an attempt to change your browser's default search settings and home page to Yahoo.
During the update process, Java users are being greeted with a new pop-up window entitled "Get the best of the web with Yahoo." It contains a checkbox, unfortunately checked by default, that reads, "Set Yahoo as your homepage and default search engine on Chrome and Internet Explorer, plus get Yahoo as your new tab page on Chrome." If you rush through the installation, you might inadvertently be tricked into overriding your existing search engine settings (Google, DuckDuckGo, etc.), as you need to specifically opt-out by unchecking the box to keep your current settings.
If all this sounds a bit sketchy on Yahoo's part, well – it is. These kind of sneak installs are typical hallmarks of malware, not acceptable actions from multi-billion dollar corporations. If Yahoo wants to improve its position in the search world, it needs to figure out a way to offer better search than industry king Google. Tricking people into using its search is definitely not the way to go.
Harvard University business professor Ben Edelman agrees, calling the sneak install scheme "despicable." "If we make security updates into marketing opportunities," Edelman says, "consumers will rightly and reasonably ignore or defer updates and then we'll all be faced with less secure computers."
Yahoo, for its part, appears to believe it's done nothing wrong. "We have definitely made sure that our onboarding process is one that's highly transparent and gives users a choice," a company spokesperson said.
Unfortunately, Java is a key component in many websites, so many of us can't just avoid the software. And it's important to keep it updated when prompted, because many patches apply critical security fixes. Just remember next time that you need to lookout for this nasty little search hijacking attempt, or else you'll need to enter your browser settings later to reset your preferences.
[Image credit: Java]