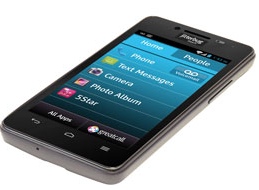 Keeping seniors up to date on modern technology isn't always the easiest task. When my grandmother got a cell phone in the early 2000s, she insisted on calling it a "car phone" and kept it safely stored in the trunk of her vehicle at all times. My 60-something father, meanwhile, still uses a 5-year-old clamshell phone he inherited for free. He likes keeping it turned off to "save the battery."
Greatcall's Jitterbug phone line is aimed squarely at this audience – older folks who want a portable phone but are intimidated by complexity. The line's latest offering, the Jitterbug Touch 2 smartphone, offers a balance between the most powerful and desired smartphone features and ease-of-use.
The Jitterbug Touch 2 uses a custom Android (4.0) skin that keeps the smartphone simple. Rather than feature multiple screens full of icons, the Touch 2 instead uses list-based menus. Popular apps are intuitively named for an older audience: Instead of Chrome, the name of the phone's web browser is simply "Internet." The phone also comes loaded with a number of medical apps and emergency response features.
The phone's specs are pretty basic, trading unneeded power for a low price. You get a 4-inch, 800 x 480 display that features large, legible letters for older eyes. The phone has a 5MP rear camera for photos and 4GB of storage, which should be plenty of space.
The Jitterbug Touch 2 is available now for $139.99, no contract required. Calling plans for the device start at $14.99 per month, text plans start at $3 per month, and data plans start at just $2.49 per month. You can order the phone through the Greatcall website.