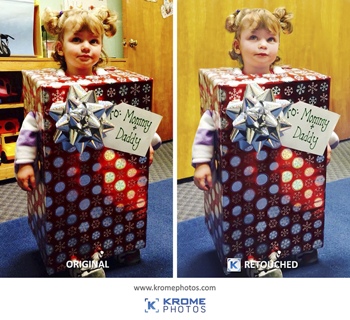 My mother, my father and I – basically my entire family – have become amateur photographers. We didn't take a huge amount of pictures in the Polaroid era, but now that all our phones have cameras, we're hooked.
But just because we're talking a lot of pictures doesn't mean we're all good at it. That's what makes the new Krome Photos service so compelling – it offers professional editing of your photos, which you can download and/or use to create prints and gifts. Don't have an iOS device? You can use the .
Here's how the service works. Download the free iOS-only Krome app from iTunes or browse to the Krome Photo site. Then choose the shots in your Photo Roll or on your computer that you want to send in for editing.
All retouching is handled by real people – nothing is automated. Basic color-enhancing, cropping, red-eye removal, exposure compensation, sharpening and noise reduction cost $4.99 per photo. The most advanced level of retouching runs $9.99 per photo, offering the removal of skin blemishes, swapping backgrounds, the removal of people or objects – you tell them what to do, and they do it. The least expensive option, the color-enhancing Krome Treatment, runs 10 cents per photo. Photo gifts like framed prints are also available.
Krome is currently offering new customers $10.00 in free credit when they use the iOS app, so you can try the service out for free. To learn more about Krome, visit the company's website or check out the promotional video below.