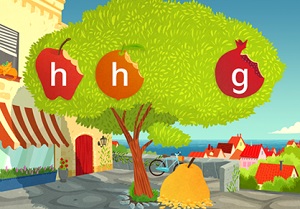 A new iPad reading app, Learn with Homer, officially launched this week for kids 3-7 years old. Aligned with common core standards, and developed by well-known education reformer, Stephanie Dua, the Learn with Homer graphics are adorable, the curriculum well-rounded, and the stories, songs and activities memorable.
The Learn with Homer app helps preschoolers and early elementary kids learn to read with a personalized learning program that uses phonics as its base. The "comprehensive literacy program" teaches kids how words look, how letters sound, how sounds are put together in an engaging – and seemingly effective - way. My son played with the app on a recent 12-hour road trip, and was singing the "Jenny Jenkins" song on his own hours later in the car (" . . . roll, Jenny Jenkins, roll . . .")

What the app does well, is provide a comprehensive approach to learning to read: the field trip activities extend concepts to the real world, hearing their own voices mimic the animated characters, even the creative and stunning illustrations and your child's own drawings engage multiple senses and thoughts. The Learn with Homer app approach helps to bridge concepts and engage through the screen without superfluous bells and whistles.
Additionally, to really up the engagement factor, the Learn with Homer Parents site offers complementary printable mazes, hidden picture activities, lists of curated books that you can instantly purchase online, review your child's progress and print suggested activities to reinforce their in-app activities, and more.

You can even purchase artwork, mobile device cases, and throw pillows featuring the Learn with Homer illustrations in their shop.

Learn with Homer app is only available for iOs and comes with 30 lessons for free, with additional lessons and content available for purchase. You can add up to three children onto one account.