LEGO Group launched a new free app, Super Hero Movie Maker, this week that is sure to have kids begging to use your iTouch, iPhone and iPad to take pictures of their LEGO minifigures and sets. The Super Hero Movie Maker app comes with everything you need to make your own LEGO stop-action movie - complete with title cards and super hero-inspired music.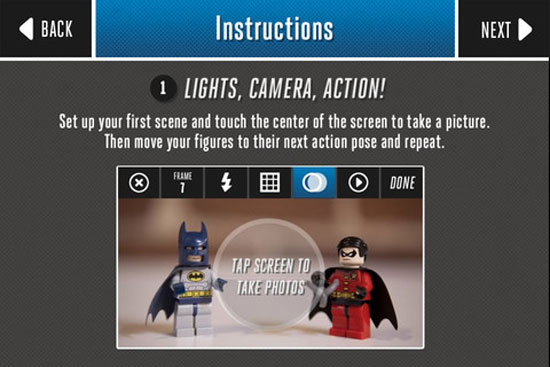 Kids can easily start storytelling by taking snapshots of their toys with your camera-equipped iOS device. The app lets you use a grid if you'd like to ensure your shots are steady, and will even keep a ghost image of your last frame so you can precisely line up your next shot.
While kids as young as four may enjoy taking photos of their LEGO creations, there's plenty of post-production editing features for tweens and parents to get into the action. You can add or delete individual frames, change the hue of the movie, or even the number of frames per second, and add a music score too.
The app complements the LEGO DC Universe Super Hero line of toys, but can be used with any LEGO brick sets. Best of all? This app is free without any in-app purchase requirements, and available for download now on iTunes.
Soon you'll be sharing your li'l movie producer's masterpieces on Facebook. . . don't say we didn't warn you if this develops into an obsession.