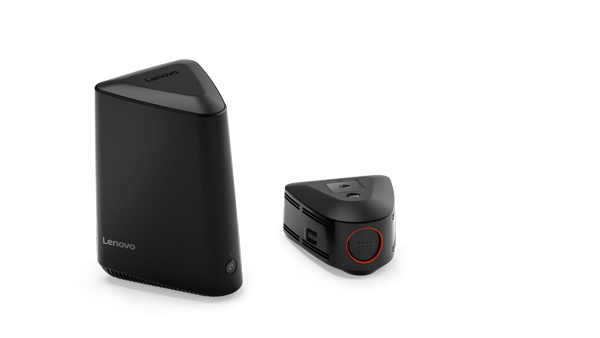 Lenovo's ideacentre line has always had some slightly out there products, like the Stick 300 that connects to a TV or monitor to create a PC out of anything with an HDMI port. The newest addition to the ideacentre family is no exception: the 610S desktop is being billed by the company as the first in the world to come with an optional, removable projector.
The 610S is a fully functional desktop computer that runs Windows 10, and it's aesthetically gorgeous. It's got a unique triangular shape and a super shiny black finish. It's the desktop computer that you'd want to bring home to Mom, it's just that pretty.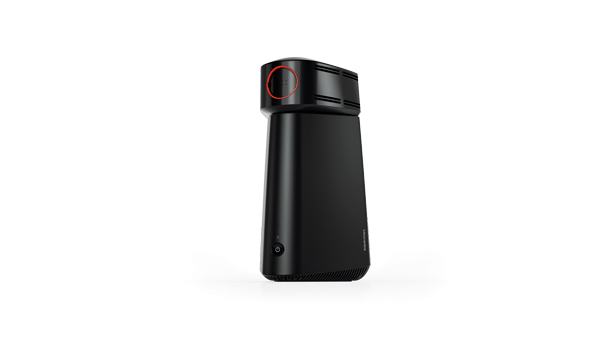 The optional detachable projector matches the desktop with its triangular design, and can fit right on top of it or be placed on a table with its tripod stand. Lenovo says it will project a 100" screen on any wall, so you can have a movie night or blow up images on your screen to comparatively Godzilla-like proportions.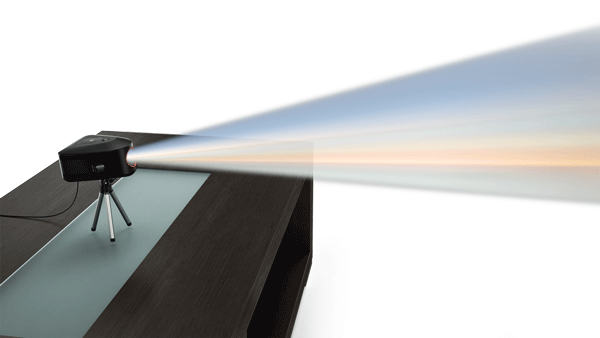 Under the hood, it's got a sixth generation Intel Core i7 processor, up to NVIDIA GTX 750 Ti 2 GB GDDR5 gaming graphics (in one test, this particular video card boosted gaming performance of around five percent), up to 16 GB DDR4 RAM and up to 2 TB storage. That'll offer slightly better performance than the 15" MacBook Pro.
Lenovo is firing on all cylinders in the projector market- its YOGA Tab 3 Pro has a built-in projector, and a presenter module with a projector and HDMI port will be coming to the newly announced ThinkPad X1 Tablet in May for $279. And check out the company's new concept smartwatch that projects an image twenty times larger than the watch face with a Magic View display and its concept smartphone Smart Cast laser projector, too. They're obsessed with turning every device into a projector, and why not? We're always looking for ways to enhance our viewing experience.
The ideacentre 610s starts at $849 with the optional detachable projector and will be available in June.
[ideacentre 610s with projector via Lenovo]