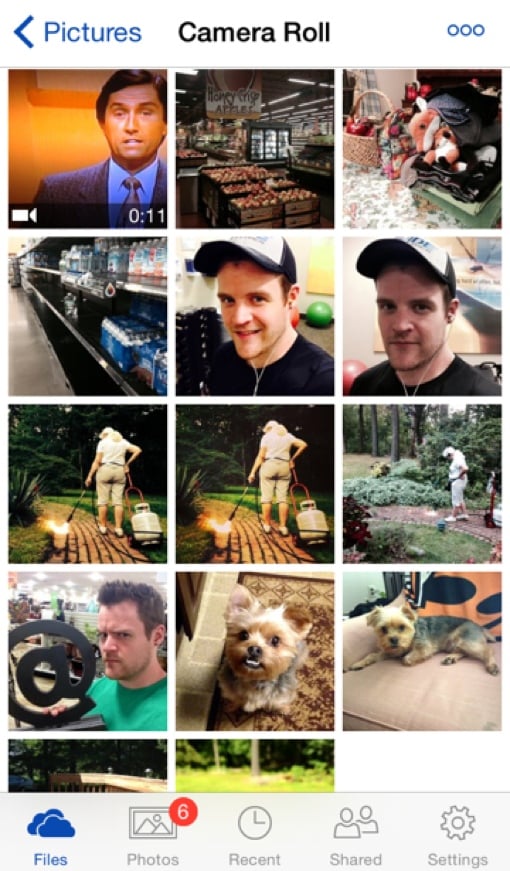 Are you running out of storage space on your iPhone? Struggling to install the new iOS 8 because of size constraints? Worried that your new 16GB iPhone 6 will be at capacity with high-resolution photos and videos? The solution may be cloud storage. And for a limited time, Microsoft is offering a ton of it for free.
This weekend, Microsoft announced that it has doubled its allotment of free storage space on its OneDrive cloud platform from 15GB to 30GB. The extra 15GB is a "camera roll bonus." To qualify for it, you'll need to agree to automatically upload the contents of your camera roll to the cloud.
Though Microsoft is targeting its offer to Apple fans to coincide with the release of the iPhone 6, anyone with a mobile device can claim the bonus storage space. Just download OneDrive to your Android or Windows Phone device, activate the automatic photo backup, and you're good to go. The offer is good for both new and existing OneDrive users.
Don't worry if you're not a tech expert: OneDrive is incredibly easy to set up on your device. Simply download the Microsoft OneDrive app via your favorite app store and install it. Then sign in with your MSN username and password (that is, your login credentials for Hotmail/Outlook.com) and give the app permission to access and automatically upload your photos. All of your photos will then be backed up to the cloud automatically, freeing up space on your device for more music, more apps or even more pictures.
The only catch here is that this is a limited time offer. You'll need to download and activate automatic photo uploads by the end of September. But once you do, that 30GB allotment is yours to keep. It's a huge chunk of free storage, so you may want to jump on the offer now, even if you're not currently in a storage pinch.
Microsoft OneDrive is a free download for iOS devices on the Apple App Store; you can find it for Android on Google Play. To learn more about the OneDrive service, visit its website at onedrive.live.com. To learn more about cloud storage in general, take a look at our comparison guide to the best cloud storage services available.