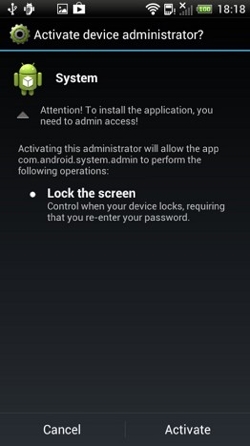 It's "the most sophisticated Android Trojan" to date: Security experts at Kaspersky have identified a new virus that aggressively targets Android phones, attempting to take over devices to make costly calls that run up your wireless bill.
The Trojan, Backdoor.AndroidOS.Obad.a, begins its infection by requesting Device Administrator privileges. Once obtained, the virus hides itself and becomes impossible to remove. And because the malicious code operates in background mode, it will not be immediately apparent that your phone has been hijacked.
The scariest aspect of the Trojan is the level of control it offers strangers over your phone. Once installed, it can edit, send, and receive texts; use the internet; access all your personal data, contacts, and files; spy on your activity and make premium rate phone calls. The virus can even install other malicious apps without your permission or knowledge, turning your phone into a hacker's dream.
When an infected phone connects to a public WiFi network, the screen freezes for a brief period of time. During this period, the trojan attempts to spread to other Android phones also using the network. The virus can also be sent via Bluetooth, making an infected phone dangerous to be around, physically.
So far, the virus's reach has been limited, but security experts at Kaspersky remain highly concerned about the aggressive nature by which it is capable of spreading. To make sure you stay protected, you'll want to make sure your Android phone has anti-virus software, and further make sure that it stays up to date. Be sure to check out Techlicious's Computer Security Software Buying Guide 2013 for some great, free options for keeping your Android phone safe.