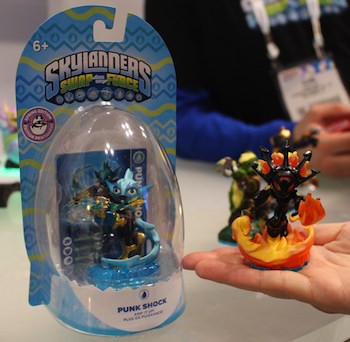 At this year's Toy Fair the most interesting tech toys I came across were the ones that blended physical toys with virtual play in fun and engaging ways.
This has been coming on for several years--ever since the iPad launched and kids as young as 18 months started playing with smartphones--but it looks like toy companies across the board have finally found the right balance.
Thanks to games like Skylanders and Disney Infinity, the idea of buying a figurine that also holds virtual data, or shows up in a virtual world, while still being a fun toy on its own is normal and not novel. And that idea is spreading beyond console gaming to other toys.
Hottest games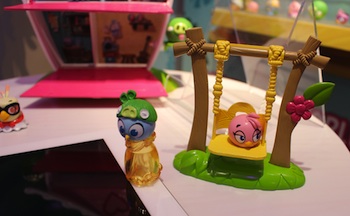 Naturally, other types of games are getting in on portal play and action figures. Hasbro brought it to iPad gaming with Telepods, accessory bases that allow the tablet to read a special code on a physical toy. Last year kids could collect toys for use in Angry Birds Star Wars, each with special abilities and powers. Place the toy on the Telepod and it ports right into the existing game.
This year is all about Angry Birds Stella, who will not only destroy pigs on an iPad screen, but also in real life. Hasbro is bringing out multiple playsets and plenty of friends for Stella to hang with, providing kids with multiple ways to play.
The portal is also coming to Plug and Play TV Games. The Jakks Pacific Hero Portal connects directly to the TV and, like Skylanders, comes with a base where kids can place an action figure and then play that character on screen. The Hero Portal is somewhat limited--each set will only have six action figures and they're only compatible with one game each. It's also less expensive than console games ($40 for the game and two action figures) and comes in a complete package with no extra hardware required.
With both of these systems kids get toys that are just as fun to play with on the bedroom floor as other action figures. And in that world, they don't need to worry about compatibility. Spyro and Ninja Turtles and My Little Ponies and Stella and Mr. Incredible can all have adventures together.
Toys and tablets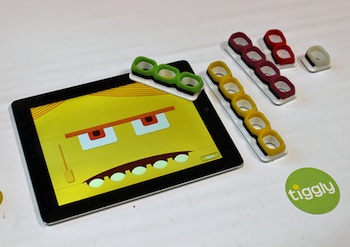 Toys that physically interact with tablet screens aren't as abundant this year as they have been in the past, partly because the toys weren't always as gentle on the display as advertised and partly because the interaction between toy and app wasn't vastly superior to just using your finger. Mattel's Apptivity toys and the HeroClix TabApp were inspired ideas with not so great execution.
The basic idea lives on in Tiggly Shapes (and the upcoming Tiggly Count) for babies and toddlers. The blend of old-school shape/painting play with interactive apps is well done and engaging enough for this age group. This toy also addresses the need for children who interact with screens at young ages to also develop necessary motor skills.
Stepping up in age and in complexity, the on-screen tablet toy/game piece with huge potential is the Ozobot. This tiny robot is fun to play with on iPad-size screens--the developers have already created a half dozen fun games for it--as well as on large table PCs and touchscreen all-in-ones that can lay flat. The developers are already in talks to incorporate the Ozobot's guts into game pieces for major brands, so by the next Toy Fair we may see game pieces that move on their own or that roll right off of a tablet and onto a cardboard game board.
Apps that do more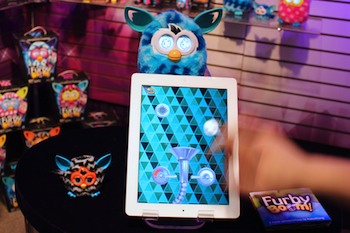 You'll continue to see toys that unlock content in an associated app, such as the Battle Masters line from Hasbro. This updated take on the Rock 'Em Sock 'Em-type toy also has an app where kids can do the same thing as they do with the physical toys: throw punches and try to knock your opponent's head off. There will be dozens of Battle Masters to collect from multiple franchises like Transformers and Marvel Comics. Each character you buy you can also play in the game.
That's not quite as fun as apps and toys that interact with each other. With the Furby BOOM app kids feed, clean, and talk to their Furby toy. Furblings, which started off as virtual pets within the app, are now also physical toys that can unlock special virtual bonuses. In the near future you're going to see more apps that enhance playtime in this way; adding a layer of interaction and engagement that isn't possible or just isn't as fun without them.
Keeping information relevant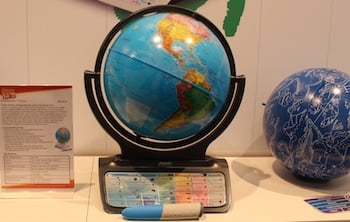 Apps don't have to be front and center in the toy experience. Sometimes they're useful in keeping a toy up to date, as with Oregon Scientific's SmartGlobe Infinity. The globe itself is static, but the Smart Pen kids use to tap and learn about countries and major cities is not. The pen itself comes equipped with Bluetooth so parents can update the information on it via an iOS or Android app. When facts change--leaders, population, recent history--the Smart Pen changes with it. The app itself is interactive, giving kids multiple ways to learn about geography, cultures, even the stars, though it's not necessary to use.
In some cases kids won't even see the app driving their interactive experience. Modern day Teddy Ruxpin replacement WikiBear tells jokes, spouts information, and has what feels like a real personality all thanks to a wireless connection to the Internet via a smartphone. No need for the phone to even be in the same room as long as it's in WiFi range. Kids don't even have to know that an app is involved, they'll just think WikiBear is magic... or alive.