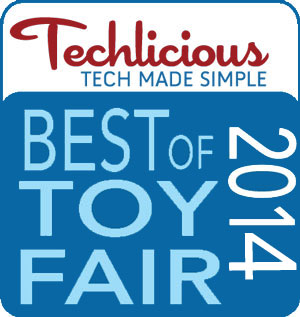 Companies from around the world converged on New York City at this year's Toy Fair to showcase all the hot toys coming out this year.
Among all the plush animals, dolls, actions figures, bikes, board games and foam weaponry, we found a ton of great tech toys.
These are the eight toys that made our list for Best of Toy Fair Awards 2014.
Chinese Cubes
This year's Toy Fair made it clear that the virtual world and the physical world aren't going to remain separate for long. Toys and games that combine the two or play to the strengths of both are everywhere, particularly in the educational category.
The Chinese Cubes language learning system embodies this idea. The original system utilized augmented reality and physical cubes to teach Chinese. New this year are CubeBooks for iPad (and Android tablets in a few months) that allow for mobile language learning while still including a tactile element, plus online videos to supplement both the cubes and the books. Together, they offer a fun, comprehensive educational experience that works with your learning style and your own pace. It's also relatively inexpensive. We only wish it were available for other languages.
Price: Cubes Starter Pack $149, Booster pack $299, CubeBooks Free - $7.99
Availability: Now
Fisher Price Laugh and Learn Smart Stages Chair
Many toys claim that they can keep up with babies and toddlers as they grow, but how many do that automatically? The Smart Stages Chair knows when your baby sits down and gets up and uses the pressure sensitivity for learning games and fun.
That same technology senses when a baby grows into a toddler and adjusts educational and play levels to match. Parents can update the chair to more advanced levels manually if children are ahead of the curve learning their letters, shapes and numbers.
Price: $40
Availability: June 2014
Modular Robotics Moss Construction System
Building sets and do-it-yourself kits have always been big hits at Toy Fair and with kids themselves. Now we're starting to see more of these types of toys with a STEM (Science, Technology, Engineering and Mathematics ) angle, like the Moss construction sets.
Building a toy that moves with a Moss set is simple enough that even easily bored kids can create something cool before they lose interest. Learning which modules to connect to achieve the desired end takes just a few seconds. Within an hour, kids can create a tiny car they can control with the app on their tablet or smartphone, then quickly take it apart and create a robot that responds to sound.
Like Legos, a Moss set can be pulled out or stored with minimal fuss and setup. Kids can build beyond the suggestions on the box, and adding more kits adds to the complexity and size of what they can build.
Price: $150 (Basic Kit), $400 (Advanced Kit)
Availability: April 2014
Oregon Scientific SmartGlobe Infinity
The SmartGlobe line has always offered a fun, interactive way for kids to learn geography and facts about countries around the world. The biggest drawback is that information can change over time. A current event today is relevant history tomorrow; population and leaders change, even country names change.
With that in mind, Oregon Scientific has developed a Smart Pen to go with its new SmartGlobe Infinity. Using the pen, kids can tap anywhere on the map or the control panel to hear information about a country or region. The pen is Bluetooth-enabled, so parents can update the data via Android and iOS apps. The globe itself doesn't change (though the company also plans to release accessory globes that focus on culture and social studies or learning about the stars), yet the information kids can glean from it will always be up to date.
Price: $100 ($40 for other globes)
Availability: Fall 2014
Ozobot
This cute little robot is another toy that blends digital and physical play. Though it may be a tiny thing, it has big world domination plans.
At its core, the Ozobot is pretty basic. It's programmed to follow lines and can recognize different color lines (red, blue, green, black). Within that simple framework lie a ton of possibilities ranging from multiplayer games to simple programming opportunities. That's because the Ozobot can follow lines on a tablet just as easily as lines on paper, and it can make the jump from roaming around on an iPad to roaming on a physical track all by itself.
The robot will launch with a small stable of apps for solo and group play, including one that lets kids draw their own paths and program the Ozobot — and this is only the beginning. We expect to see the Ozobot integrated into existing board game brands and apps not only for 7- to 10-inch tablets but full PCs as well. We welcome our tiny robot overloads.
Price: $55 (for Kickstarter backers)
Availability: Summer 2014
Tamagotchi Friends
Remember Tamagotchi, one of the original virtual pets? They disappeared from American toy shelves more than a decade ago, yet they've continued to enjoy popularity in Japan. Now they're coming back to America this fall with a new attitude and updated gameplay.
The basics are the same: Kids hatch a Tamagotchi egg, care for and feed the pet to make it grow, then keep it healthy and happy. New with this generation is the ability for Tamagotchi characters to visit each other's virtual spaces. Kids tap two eggs together to send the pets off to play. There are five games within the electronic egg for kids to play that let them earn in-game currency for virtual shopping.
The biggest pain point of the original Tamagotchi was that the pets needed near-constant care and died if they were neglected, causing problems both at home and at school. The new toys won't do that. The eggs now have a pause function for times when kids need to do other things. And even if kids do ignore their pet's needs for food and cleanliness, it won't die; it will simply go back into space, leaving a goodbye note.
Price: $20
Availability: Fall 2014
Crayola Virtual Design Pro
Augmented reality toys are going to be big this year, thanks to the way the technology behind them has evolved. One of the best implementations comes from Crayola, which has finally hit on a great way to blend traditional coloring with tablets.
The Virtual Design Pro collections come in two themes: Fashion Design and Car Design. This deluxe design box comes with dozens of coloring tools in a wide range of colors, plus a coloring book with car or fashion model templates and a free app for iOS and Android. Once kids add their own colors and designs, they can use the app to snap a picture and watch those same designs come to life in a virtual world. They can design their own fashion show or race their own custom car, adding more customization within the app.
All creations are shareable online and with friends (with a parent's permission, of course).
Price: $40
Availability: Fall 2014
WikiBear
Interactive toys are getting smarter and smarter, and this one's knowledge is as big as the Internet. WikiBear is a soft, cuddly plush animal that can converse with kids so naturally it's almost scary. That's because its artificial intelligence engine draws from multiple online sources (yes, including Wikipedia) and apps on your smartphone to determine what to say.
You can ask WikiBear what the weather will be like today, get him to tell you a joke or get him to answer less-than-straightforward questions such as "What's your favorite color?" It's as if someone inserted Siri into a talking bear.
The plushie itself doesn't connect directly to the Internet; it requires a wireless connection to a smartphone or tablet to access all that data. When it's time for bed or you just need a break, WikiBear becomes a regular stuffed animal.
Price: Unannounced
Availability: September 2014