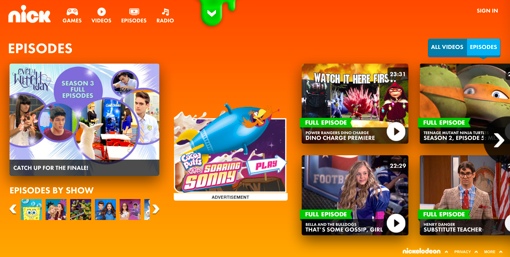 Big news for the little rugrats in your life: Media giant Viacom is launching a new direct-to-consumer streaming video service for kids based around the Nickelodeon TV channel. Details about pricing and content were not discussed, though more details will be forthcoming before the service launches in February.
"We believe this innovative service … will be very attractive for parents and children," explained Viacom CEO Philipe Dauman during a company conference call with Wall Street analysts Thursday.
The service will be what's known as "over-the-top" – that is, a stand-alone offering that does not require a pay TV subscription to enjoy. In doing so, Nickelodeon joins the ranks of CBS, HBO and Showtime, all of whom are experimenting with unbundling their channels from pricey cable packages. The coming Nickelodeon service, it seems, was made for cord cutters.
One thing is for sure, however: The Nickelodeon streaming video service faces stiff competition from other kid-oriented streaming sites. Last year, the Children's Television Workshop launched Sesame Go, a $3.99-per-month service that offers hundreds of full-length episodes of Sesame Street. The free PBS Kids app also offers a large rotating selection of videos for young kids with an incredible suite of parental controls. And of course, Amazon Prime and Netflix both have a strong selection of acquired and original content for kids.
[Image credit: Nickelodeon]