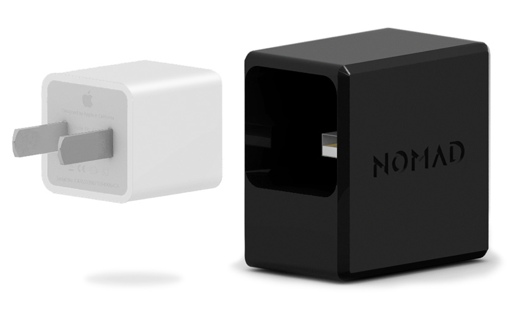 We've been talking a lot about portable battery chargers here at Techlicious lately. Recently, the uNu Ultrapak caught our eye – it can draw enough power from a wall outlet to fully recharge your phone in just 15 minutes. It does have a few drawbacks, though: It's large, hefty and at $99.99, pretty expensive too.
If portability and price are key factors when it comes to a portable iPhone battery charger, you should definitely take a look at the new NomadPlus instead. It's a small, 1500 mAh battery upgrade for your standard Apple USB wall plug that offers smart, pass-through charging. Basically, it turns your stock iPhone charger into a spare battery.
When fully charged, the Nomad will be able to restore your phone to 70%. That pales in comparison to the nearly 6 full recharges you can get out of a myCharge Hub 9000 (our pick for the best portable battery charger), but again, the two devices are hardly competitors. The NomadPlus, at 2.75" x 1.33" x 1.10", is only slightly bigger than your Apple USB wall plug. And since it weighs only 2.1 ounces, you'll barely notice carrying around the extra weight.
The NomadPlus is currently available for pre-order with a November delivery at hellonomad.com for $39. If you pre-order now, however, you can use the code "nomadplus" at checkout to get yours at a hefty 50% discount.