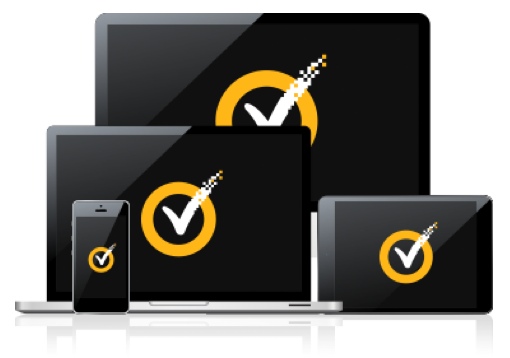 Forget everything you think you know about Symantec's Norton line. Today, the computer security and anti-virus company announced a major shift in business models, simplifying its offerings down to just two all-encompassing products. The first, Norton Security, offers full threat protection for up to 5 devices for an annual fee of $79.99. The second, Norton Security with Backup, offers protection for 10 devices with up to 25GB of cloud-based file backup for a $89.99 annual fee.
The nice thing about the new Norton Security is that you no longer need to pick and choose what aspects of your computer you want protected – each product does it all. You get virus, spyware and malware protection you'd expect from anti-virus software, all with Norton Insight quick scan technology. You also get Norton Safe Web, which monitors websites' threat levels in search results, keeping you away from malicious sites intending to flood your computer with malware and spammy popups. Smart protection against both established and new phishing sites is also included to shield you from identity theft.
Of course, threats today aren't just aimed at your computers – they now target smartphones and tablets as well. Norton protects Android and iOS mobile devices, too, with its new App Advisor that warns you of risks in installing newly downloaded apps. If someone tries to remove your phone's SIM card, Norton will lock your device down. It can even block telemarketer calls and spam texts from reaching your phone.
Norton Security comes with a pretty solid money-back guarantee. You now get spyware removal help from a Norton specialist for free if you need it (this used to be a paid service). If for some reason they can't help – an unlikely scenario – you can get your subscription fee refunded.
If you're looking for a security product to cover your whole family, Norton Security is definitely worth consideration. You can purchase the $79.99 Norton Security software and coverage in retail stores and online through Norton.com. A version for small businesses is also available starting at $99.99.