Please check out our updated stories on how to block calls and text on Android phones and how to block calls and texts on iPhone.
No one enjoys cell phone spam, especially aggressive telemarketing calls and texts while you're on the go. Though you can list your cell phone number on the Do Not Call Registry, that doesn't stop telemarketing text messages or even all phone calls in our experience.
If you're tired of these nuisances, you have options. You can use the following apps and features built into your phone to help cut down on spam.
For Android smartphones
There are some built-in features that identify incoming calls on most Android phones (those that are running Android 4.4 and higher). Caller ID by Google will match incoming calls with Google Places listing and display that name on the call screen for you. Unfortunately, this is highly dependent on the company being listed in Google's business directory.
If you're getting nuisance calls from the same number, you can block it from the call log. Select the number you want to block and when you see the details for the caller, hit the menu button. There you'll find the option to "Block/report spam," "Add to reject list" or something along those lines. You can manage your call reject list, including adding contacts or numbers, under settings >> call >> call reject >> auto reject list.
You can also opt to send all calls from a specific contact directly to voicemail. Once you get a call, make a contact out of that incoming number. Then view that contact (the People or Contacts app) and tap on the menu to see the option "All calls to voicemail," "Add to Auto Reject list" or something similar.
For earlier versions of Android, your options vary somewhat by manufacturer. When you get a spam call, open the call log and press and hold the number you want to block. While you're holding, a menu will pop up letting you add that number to your contacts or block it. Samsung calls it "add to reject list," HTC calls it "block contact"—you get the idea. On LG models, you can go into system >> call >> call reject >> and then use the + to add numbers from your recent calls.
All of the above options send callers straight to voicemail. Until recently, you were able to use apps to automatically hang up on numbers. However Android phones running Android 5 and later no longer support this function.
Following are apps that specialize in dealing with annoying calls in different ways.
Best for blocking spam: Mr. Number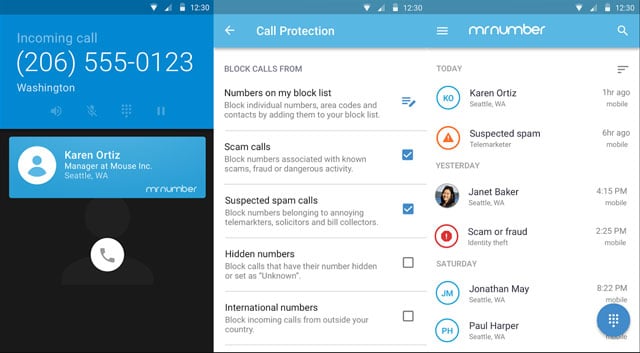 Mr. Number lets you block calls and texts from specific numbers or specific area codes, and it can automatically block private or unknown numbers. It also lets users report spam, so when you get a call from an unknown number, you can see what others have reported about it.
When a blocked number tries to call, your phone may ring once, though usually not at all, and then the call is sent to voicemail.
Price: Free at Google Play (reverse lookups for a fee)
Best for Identifying Calls: Truecaller

While Mr. Number focuses on blocking calls and texts, Truecaller focuses on identifying who's trying to get in touch.
Truecaller provides caller ID information and reverse lookup data for incoming calls and texts — and all this info means that Truecaller knows who spammers are and lets you block them before they start bothering you.
The app makers maintain a database of spam callers and telemarketers and will automatically flag incoming calls as such. This database comes from both white and yellow pages services as well as crowdsourced from the Truecaller community.
Truecaller will ask to add your list of contacts to its database, but this is purely optional. You will have to verify your number with Truecaller before being able to use the service.
Price: Free at Google Play
For iPhones

iOS 10 has built-in options for blocking numbers and support for third party call blocking apps,
For individuals, go to the Contacts app and tap on the contact you want to block or find the number on the Recent Calls tab (clock icon) on your Phone app and tap the circled "i" icon to the right of the number. Both these methods will take you to the contact page for that caller. Scroll to the bottom and click on the Block This Caller.
But what about identifying incoming calls or texts as spam?
For that, we like Nomorobo ($1.99 per month), which won the FTC's Robocall Challenge.
Other blocking options
If you don't find any built-in features or apps to your liking, your carrier might offer blocking options (although they could come at a cost).
Finally, try filtering by using a Google Voice number as your primary means of contact. Google Voice offers great spam filtering options with a database of known spam numbers, and it can automatically block potential spam. You can port an existing number to Google Voice for a $20 fee to enjoy first-class call filtering options no matter what kind of phone you're using. This method works for both iPhones and Android smartphones.
[woman shouting into phone image via Shutterstock]
Updated on 7/14/2017 with Android OS and iOS changes and new carrier options.