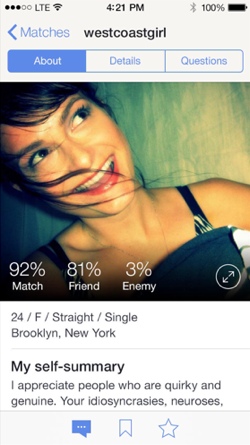 An increasing number of people are using online dating sites to find love these days. It's a billion dollar industry with a lot of competition. But a new feature on OKCupid is ruffling a lot of digital feathers: For a sliding monthly fee, you can filter unattractive and overweight people from your search results.
OKCupid gives members of its site the ability to rate members' attractiveness on a 5-star scale. A recent update to the site's A-list premium service allows paid members to perform searches based on this rating. Premium members can also search by body type for someone who is "athletic" or "jacked," or simply filter out results of those who describe themselves as "overweight."
"The feature helps people make dating decisions based on what people look like," explained an OKCupid spokesperson to Mashable. "It's as simple as that."
To access the new features, you'll need to pay a monthly fee that starts at $4.95. That price increases based on your age, length of membership and your level of attractiveness. My price for a month was quoted at $19.95. (I guess that makes me old and ugly.)
Predictably, OKCupid is taking a lot of heat for its new search options. But cynical though they may be, there's no denying that online dating is a game where looks come into heavy play. If an OKCupid member has no interest in finding anyone but a fitness model, they're probably going to ignore overweight people whether they show up in search results or not. And plenty of people lie on online dating profiles anyway.
Of course, OK Cupid is far from the only online dating company to attempt to make money via people's shallowness. Dating sites exist to connect attractive females to "sugar daddy" millionaires, people working in the modeling industry and even men over 6 feet tall. But the award for the most superficial dating site may go to BeautifulPeople.com, which requires new applicants to go through a screening process for attractiveness before an account is approved.