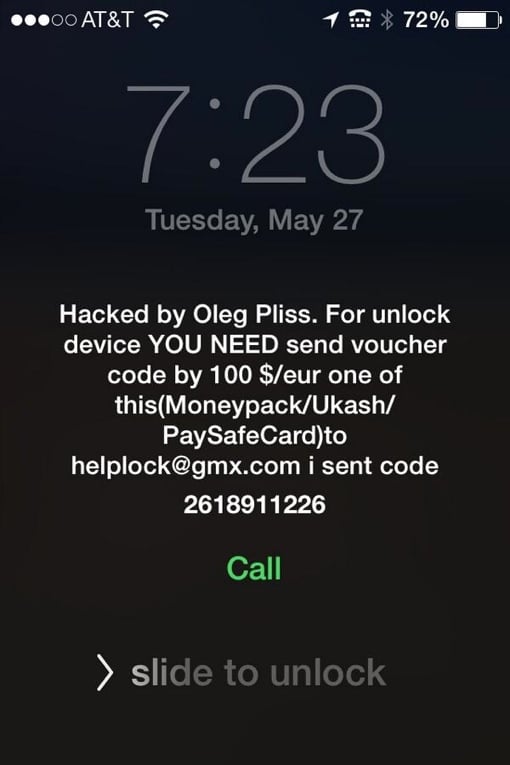 A hack that held a number of Australian iPhones, iPads and iPods for ransom this week has hit U.S. shores, CBS News 2 Los Angeles is reporting.
The hack is named "Oleg Pliss," after the pseudonym used in both the Australian and U.S. version of the scam. Victims are instructed by the message to transfer $50 to $100 to Pliss's email address to unlock and regain access to their Apple device.
Thankfully, only a small handful of U.S. Apple owners have found themselves targeted by the attack so far. The above news report comes from Southern California, though people as far away as New York were also affected.
Security researchers aren't exactly sure where the Oleg Pliss hack originated, how it spread, why the brunt of the ransom attack hit Australians or why some Americans have also felt the sting. The Naked Security blog postulates "the crooks have somehow got hold of the victims' Apple ID credentials (or figured out a way into their Apple accounts without the credentials), and simply used the Find My iPhone feature in a back-to-front way."
If you're unlucky enough to find yourself a target of this Oleg Pliss hack, don't panic – and don't pay the ransom. Simply take your compromised iPhone in to the nearest Apple Store and they'll take care of the problem for you. Note, however, that you'll lose any of your phone's data that hasn't been backed up.
If you haven't backed up your phone's data lately, you should do so ASAP. You can read Techlicious's how-to guide for information on how to back up your phone.
[Oleg Pliss Screenshot via @Greta_Tar]