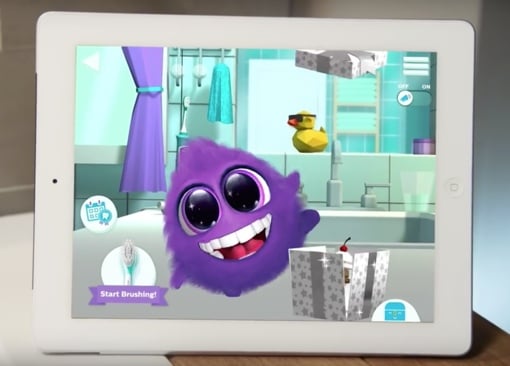 Usually, it's a challenge to get younger kids to brush their teeth propertly. But parents who own the new Philips Sonicare for Kids tablet-connected smart toothbrush, are facing a different challenge: According to reports in Ad Age, children are becoming so engaged with the electronic pets in the associated Sonicare app that its interfering with their bedtime.
As it's designed, the Sonicare for Kids connects via Bluetooth to a mobile device to turn brushing time into a game. Children earn points by brushing properly and for the full two minutes recommended by dental professionals. These points can then be redeemed to feed or customize Sparkly, the Sonicare virtual pet. Unfortunately, for many kids, playing with Sparkly after brushing became a higher priority than turning the lights out and going to sleep.
"Because they love the game and they interacted so much with the app they didn't go to bed right away," explains Mr. Boon Lai, VP of marketing for Philips Health and Wellness.
The company has since addressed the issue by making small changes to the associated game. Sparkly now gets tired and collapses when kids are done brushing, encouraging kids to put their tech down and get some rest themselves.
Philips made these changes in response to parent feedback and collected data. As an Internet-connected device, the Sonicare gathers anonymized information on your kids' brushing habits and reports it back to the company. For some parents, this may be a privacy concern, but as this new change shows, the data is crucial for Philips when it comes to refining the in-app experience.
The Philips Sonicare for Kids connected toothbrush comes with one standard-size brush head (replaceable), a charger base and 8 different stickers for kids to customize it. You can find yours on Amazon for $45.99 (after $4 virtual coupon).
Looking for an alternative to the Philips Sonicare? Be sure to check out these 3 other connected toothbrushes that teach kids how to brush.
[Image credit: Philips]