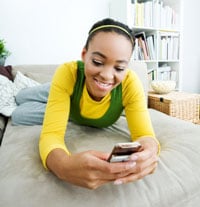 Are you concerned about your teenager sharing too much information on his or her smartphone? A new poll from the Pew Internet & American Life Project suggests that while there is some room for improvement, American teens are finally starting to understand the privacy risks associated with downloading smartphone apps.
According to the survey, over half of U.S. teens (51%) have decided against installing an app because it requested too much access to their personal information. Another 26% of teens have uninstalled an app after finding out it was collecting too much personal information. Younger smartphone owners tend to be slightly more cautious than their older teenage counterparts when it comes to privacy.
When it comes to location tracking, there's a massive gender gap: 59% of girls have turned off the feature either for an individual app or for their entire phone. Only 37% of boys reported that they disabled tracking in the same manner.
A similar survey of adults taken by Pew in September 2012 suggests that, within the poll's margin of error, teenagers are just as concerned as adults about their privacy. 54% of adults refused to install an app that requested access to personal information; 30% uninstalled an app over privacy concerns.
For more on the Teen and Mobile Apps Privacy poll, visit the Pew Research Center website.