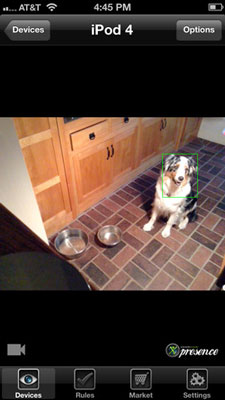 Like many of you, I have about 10 years' worth of old cellphones and iOS devices sitting in a desk drawer. It never occurred to me that all those unused camera lenses could be put to good use. Meet Presence, a new, free app that turns any iPhone, iPad or iPod touch into a real-time streaming audio and video home monitoring camera.
To use Presence, you'll need at least two devices – an old smartphone to serve as the camera, and your current phone to view and hear the live video. You might also want to purchase a third-party tripod (about $20) as a mount so you don't have to resort to propping your phone up at awkward angles.
Setting up Presence takes only a few minutes. You start by downloading the app on your old smartphone or tablet. Once you've created a username and password so your devices can be linked, you'll be able to add the device's camera using the plus sign button in the Devices menu. When you download and open the app on your current phone, you'll be able to choose your old device from the menu and see what its camera sees.
Presence also works as a motion sensor. If you desire, the app can be set up such that you get mobile alerts whenever movement is detected during a certain time of day. The app will even provide you with brief video and audio clips so you can see exactly what tripped the motion sensor.
There are a few drawbacks to Presence that keep it from being a true home security option. For one, you'll need to make sure your own phone stays plugged in – your battery won't be able to handle an always-available camera connection without it. If you're looking to spy on someone, hiding a large phone with a wire sticking out of it isn't exactly the easiest thing to do.
Bottom line: If you're looking for a top-notch home security system, a free app you downloaded on your iPhone probably isn't going to do the trick. But if you're looking for fun toy or an inexpensive way to check in on the crib every now and then, Presence may be just what you're looking for.
Presence is available for free in the iTunes App Store for Apple iOS devices.