Technology has given us more ways than ever to keep up with friends and family. Smartphones let us effortlessly stay in touch, keep an eye on the kids, and even see who's coming and going from the house. But helpful as they may be, smartphones have their downsides: namely, screen addiction. When everyone in the family has their own smartphone, it's easy for them — adults and kids alike — to stay glued to their screens when they should be spending time together. And since kids are, on average, getting their first phone around age 10, this is happening earlier and earlier.
This makes technology a tough line for parents to walk. You want to be able to easily keep tabs on your family, but you don't want to tether your child to a smartphone.
And that's where Relay by Republic Wireless comes in. It's a mobile device without a screen or even a keypad. It's controlled by a single button that kids press to start a call — which makes it simple enough for the youngest child to use easily. It lets your kids talk to select contacts (like you) without letting them text, browse the internet or access other distractions. That makes it a particularly good choice for younger kids, who aren't ready for the responsibilities of a smartphone. With Relay, you can get in touch with them at any time, without the complications (and expense) a smartphone brings.
The gadget looks more like a wireless speaker than a smartphone. It's a slender, square-shaped device a little less than 3" across, and it's available in five different colors, from bright and kid-friendly to more muted tones. The front face is dominated by speaker grill with, with the pushbutton right in the middle. It's built to take a beating, and it's water-resistant, so it's no big deal if it's dropped on the ground. It includes a GPS, so you always know where your child is, and it can make calls over both LTE and Wi-Fi, so you're never out of touch.
Right now the device's feature set is simple: a single button press puts your child in touch with everyone on your Relay account, and they can talk and listen to replies over the speaker (or with headphones). An app for parents (available on both Android and iOS) lets you seen where your child is at any time and send talk to them. That's it.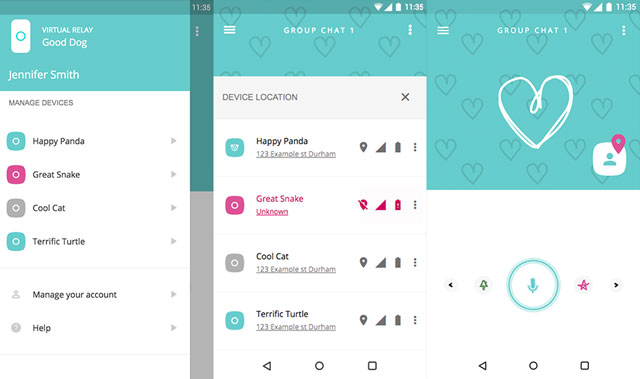 But soon, Republic Wireless will be adding more features for kids, eventually giving Relay a wide range of fun — and useful — abilities. The gadget will be able to play music (with parental controls restricting what they listen to), play games (like trivia), use Google Assistant (to ask questions and other kid-friendly activities), talk on private channels, and leave messages. Parents will have to approve each feature their child's device has access to, so you can leave it as a simple walkie-talkie style device or add more high-tech features.
And Relay isn't just for kids: it could also be a great device for seniors, letting family members easily keep an eye on them. The one-button interface is extremely easy to use for seniors who might have trouble with a smartphone.
But one of the reasons you don't want to give everyone in the family a smartphone is cost, so pricing is important. A single Relay cost $100, which is about what you would pay for a low-cost Android device. However, larger families can buy bundles for more savings: you can get two for $149 ($74/ea) or three for $199 ($66/ea). A subscription is required for LTE service, but each device costs a modest $6.99/month subscription (with an initial $6.99 activation fee). That's a lot better than the $30 or $40 budget plans you'll find on other carriers.
You can order your Relay now, and it will ship in four to six weeks.
[Image credit: Republic Wireless]