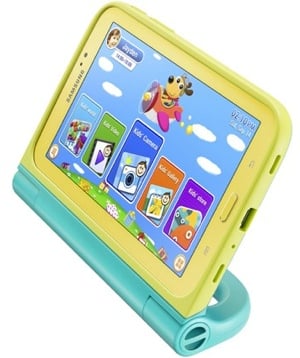 I've been covering tablet computers – both for kids and adults – for a while now. A lot of trends have come and gone, but one thing has always perplexed me: Why don't the big names out there in adult tablets go the extra step and make a tablet for kids?
Apparently, someone at Samsung was thinking the same thing. This week, the company introduced the Samsung Galaxy Tab 3 Kids, a 7-inch tablet that runs a skinned version of Android 4.1.
The Galaxy Tab 3 Kids comes with a lot of parent-friendly features. A number of educational apps and games come pre-installed; new apps can be downloaded via a special Kid's Store. The tablet also has parental controls (similar to those on the Nexus 7) built in that allow you to pick and choose what apps your kids have access to. Finally, the Galaxy Tab 3 Kids has a Time Management feature that lets you limit how long kids can use it each day.
The Galaxy Tab 3 Kids is less impressive under the hood than an adult tablet, but that's OK because it shines as a kids tablet. It comes with a 1.2GHz dual processor, 1GB of RAM, 8GB of expandable internal storage, a 3MP front-facing camera and a 1.3 MP rear-facing camera. The display measures 1,024 x 600, similar to the resolution of the current iPad mini. Of course, since it's a kid's tablet, you can expect the device to be sturdy enough to hold up to serious kid-related wear and tear.
The Tab 3 Kids will be released in Korea in September, and "subsequently available" throughout the rest of the world, the U.S. included. No price has been set.