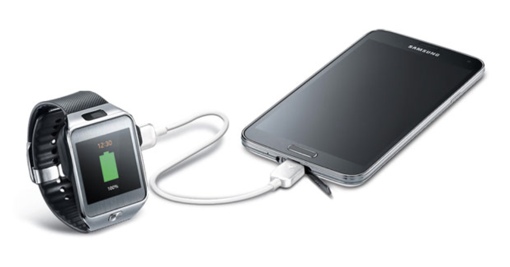 If you're anything like me, you probably have multiple phone accessories and mobile devices, all of which require charging. It's easy to remember to keep the phone charged. But when it comes to my Jambox, Bluetooth headphones, activity tracker, smartwatch and tablets, well – sometimes there are only so many outlets and charger cables to go around.
Smartphone giant Samsung today introduced a new accessory made to solve exactly that problem. Meet the new Samsung Power Sharing Cable. It's a simple way to recharge your gadgets on the go, using just the charge stored in your Samsung phone's battery.
To use the cable, you'll first need a compatible Samsung Galaxy device. Currently, the power-sharing cable works with the Samsung Galaxy S 5, Galaxy Tab S 10.5, Galaxy Tab S 8.4, Galaxy Alpha, Galaxy Avant and Galaxy Note 4. There's no limitation to what you can charge, so long as it has a Micro USB port. Arrows on the cable show you the direction that power flows in.
Using the power-sharing cable will require you to first download Samsung's Power Sharing app for Android. That's a good thing, though – the app lets you control exactly how much of your phone's precious battery life to devote to charging other devices. The app will also let you know how long you'll need to wait until the power swap is complete. It's valuable information considering how slow the transfer happens.
The only real drawback to the Samsung Power Sharing Cable is that the charge stored in your phone is typically more valuable than moving it to an accessory. You may want to look into a portable battery charger instead. Here at Techlicious, we like the myCharge Hub 9000 – it's a $100 battery with built-in charging cables, making it an exceptionally convenient way to charge all sorts of gadgets away from home.
Samsung's new Power Sharing Cable (EP-SG900UWESTA) is currently available for purchase at Amazon.com for $19.99.