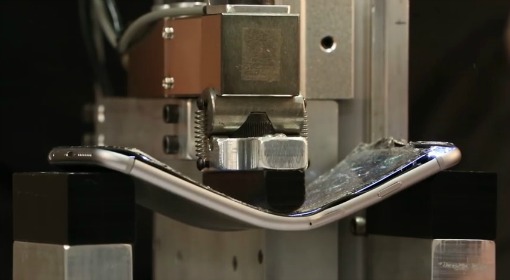 With the tendency for our favorite high-tech gadgets to be thinner and lighter, it's no real surprise that the end result can be a bit fragile. When the iPhone 6 was released, controversy exploded over the fact that the phone — particularly the super-sized Plus model — could easily be bent from something as simple as carrying it in your pocket. The fix to this is also simple: you probably shouldn't keep your phone in your back pocket where you put weight on it whenever you sit down, causing it to bend.
Still, the fact that this was avoidable didn't stop Samsung from jumping in to say that their next-gen flagship phone, the S6 "will not bend." Unfortunately, that's not proving true for the just-released Galaxy S6 Edge — the version of the S6 with a contoured screen — which bend tests by SquareTrade prove is just as fragile as the iPhone 6 Plus that spawned "Bendgate" in the first place.
According to SquareTrade, the iPhone 6 Plus bent under 110 pounds of pressure and broke completely under 179 pounds of pressure. The Samsung S6 Edge also bends at 110 pounds of pressure — but unlike the iPhone 6 Plus, that much pressure also causes the screen to crack, though the phone remained useable even so. However, the phone broke completely at 149 pounds. So much for the phone that wouldn't bend — S6 Edge users don't seem notably safer from phone damage than iPhone 6 Plus users. SquareTrade ominously points out that the Edge's more easily broken screen may actually pose a larger problem due the potential for users to wind up with "a pocket full of glass."
However, Samsung isn't taking this sitting down (at least not with a Galaxy S6 Edge in its pocket, we hope): the company's produced its own bend test video, and reports that the stresses shown in the SquareTrade video aren't normal use. Samsung states that "the normal force that generated when a person presses the back pocket is approximately 66lbf (30kgf)" which is rather less than the 110 pounds required to make the S6 Edge bend. Still, it seems a bit hypocritical for Samsung to have called Apple out for its own phones to have exactly the same problem — even if users of neither device are likely to have problems so long as they treat their phones with care.
Have you had trouble with your new S6 — or is this problem as theoretical as Samsung claims?