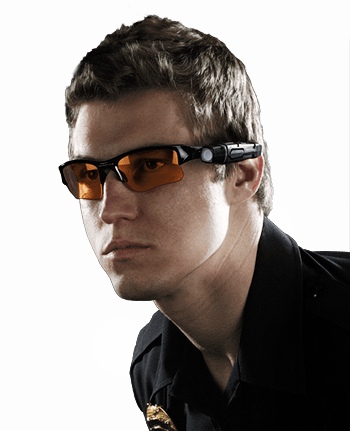 Here's a tough political question: Now that it's technologically and economically feasible, should cops be required to wear Google Glass-like cameras at all times?
Police departments across the country have either embraced, or are experimenting with, the technology. This past January, the Los Angeles Police Department began a limited test, equipping 30 officers with cameras that record their interactions with the public. Further north in Oakland, California, 455 police officers have been wearing "Personal Digital Recording Devices" since 2009.
One popular model of police cameras (shown) is manufactured by TASER and can be clipped to an officer's glasses or uniform. The cameras can be had for as little as a few hundred dollars each. When training and other expenses are built in, however, the cost rises quickly. Los Angeles is expected to pay over $1 million to equip 600 officers with cameras if the current test proves successful.
Law enforcement, for its part, largely approves of the use of such cameras.
"It's ground breaking, it's starting to build up some steam, and I think it's truly the wave of the future," Tony Farrar, police chief for Rialto, California, told CNN. Rialto police have employed wearable cameras since 2012. Since then, the city has seen a significant drop in incidents involving the use of force and a drop in citizen complaints in general.
That, of course, is one of the main benefits of the technology. The CATO Institute's National Police Misconduct Reporting Project was able to identify 4,861 reports of police misconduct in 2010. A plurality of these reports alleges excessive force. It's unknown how many of those allegations represent legitimate police abuses, but with officer-mounted cameras, it would be easier to resolve such reports with hard evidence.
"Having cameras takes away the he-said-she-said thing… It can improve accountability that way," explains Andrea Russi, director of criminal justice for the Warren Institute on Law & Social Policy at UC Berkley Law. "It can also be cost effective because misconduct and lawsuits prove to be so expensive for police departments."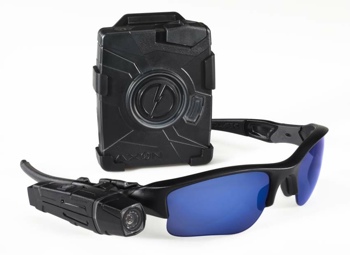 Cameras aren't just to protect police against lawsuits. Police camera footage can be used in court, and is arguably more reliable than eye-witness testimony.
The American Civil Liberties Union (ACLU), normally in opposition to public surveillance, gives officer cameras a tentative thumbs up.
"Overall, we think they can be a win-win—but only if they are deployed within a framework of strong policies to ensure they protect the public without becoming yet another system for routine surveillance of the public, and maintain public confidence in the integrity of those privacy protections," the ACLU explains in a report on the topic. "Without such a framework, their accountability benefits would not exceed their privacy risks." The ACLU is calling for stronger regulations over when police are required to start recording, limitations for how long recordings can be stored, and better public education about which officers are equipped with the technology.