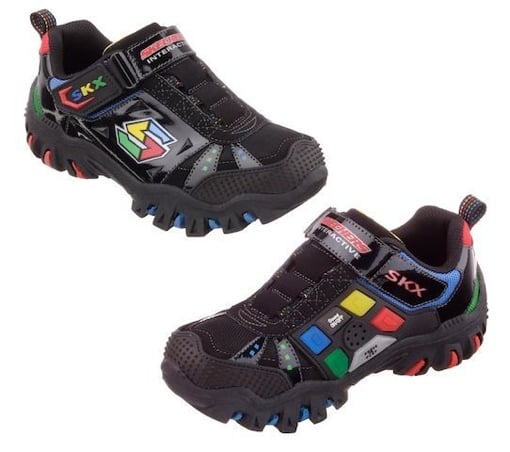 There's an awful lot of neat kids tech here at the CES 2015 consumer electronics show in Las Vegas. Case in point: Popular sneaker company Skechers is using the occasion to show off their new Game Kicks sneakers for kids. They're colorful shoes for boys and girls, available in both preschool and grade school sizes, with a Simon-like color matching game built in.
To play the game, kids need to sit down in a chair (or the floor) and cross their legs. Once they press the on button on the side of the shoe, the game starts by flashing one of its four colored lights. The game then plays like Simon – kids need to press the flashing light within a time limit. With each successful match, a new light will flash in addition to the previous one. Kids ultimately need to memorize a sequence of eight colors to beat the game.
The Skechers Game Kicks shoe itself is made of smooth metallic leather, along with synthetic and mesh fabric. Each sneaker is laced with a stretchy bungee-type cord, making them easy to slip on. A replaceable battery in the shoe powers the game, much like the company's other light-up sneaker models.
Skechers Game Kicks will be available starting February 2015 at Sketchers retail stores, at skechers.com and at select other stores. Each pair is expected to retail for $65. To learn more, visit the company's website.
[Image credit: Skechers]