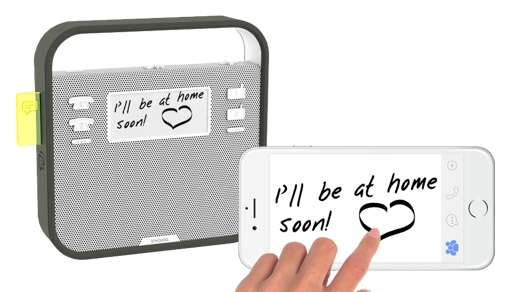 Last night at the CES 2015 Unveiled event in Las Vegas, telephony company Invoxia offically introduced the Triby, its new Wi-Fi based phone and Bluetooth speaker designed around families with young children.
The rubber-protected Triby comes with a magnet on its back, because it's meant to be mounted on your kitchen refrigerator – the true center of family life. Kids can call mom or dad over the Triby's loudspeaker with a simple press of a pre-programmed button. Parents, meanwhile, can use the iOS companion app to call the Triby in HD voice or send a small written message to the Triby's 2.9-inch e-ink display. A small, eye-catching physical flag pops up on the Triby when a new message is waiting.
When Triby isn't being used as a communications device, it doubles as a portable Bluetooth speaker (2 x 4 watts). You can easily pair it to your smartphone or tablet to stream music, listen to radio or make and take hands-free calls. There's no need to worry about echoes or feedback screeches, as Triby has echo-cancelation and noise-reduction tech built in. Don't worry about constant recharging, either – one mini-USB charging session powers the Triby's lithium-ion battery for up to 1 month.
Triby will retail for a competitive $199 when it ships sometime in summer 2015. It will be available in a range of kid-friendly colors, including neon green, neon blue, red, neutral gray and more. To learn more about Triby, visit the Invoxia website or watch the short promotional video below.
[Image credit: Invoxia]