Good news for those of us who crave the specs of the iPhone 6 but prefer a smaller phone: there's a rumor going around that Apple is readying a 4-inch iPhone for release in April this year.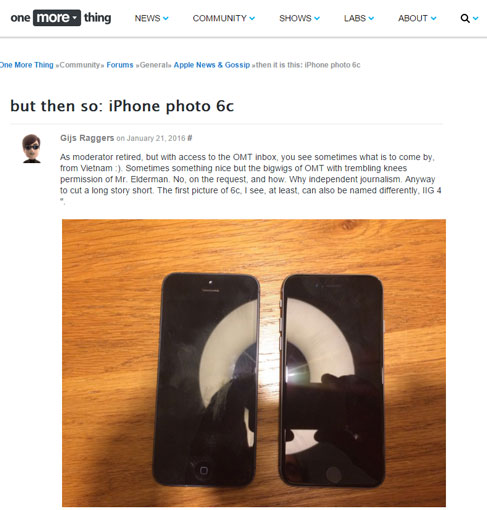 9to5Mac's Mark Gurman reports that instead of being named the 6C, this smaller phone is dubbed the iPhone 5SE, and is really an upgraded version of the existing iPhone 5S. The leaked photo, which shows an iPhone 5 on the left and the iPhone 5SE on the right, shows that the 5SE will have the curved edges of the 6 but keeps the size of the 5. The photo also shows that the iPhone 5SE's buttons have also moved to the location of the 6S'.
While these rumors could be just that, it's worth noting that the photo was shared on the One More Thing forums, which previously showed the hardware of the iPad Air, as well as the thinner display of the iPad Air 2. The leaked photo of the iPad Air included what looks to be a pretty similar overhead lamp and table as the iPhone 5SE photo.
Gurman's sources say that the new phone's hardware and internals are basically those of the iPhone 6; there will be an 8 megapixel rear camera and a 1.2 megapixel front camera, an NFC chip for Apple Pay, upgraded Bluetooth, LTE and WiFi chips, and the A8 and M8 chips from the iPhone 6. In addition, the 5SE will support larger panoramas, video auto-focusing and Live Photos, and will come in silver, space gray, gold and rose gold like the 6s. The 5se won't have the 3D Touch of the 6S, however. The 5SE will also likely have a lower capacity battery than that of either the iPhone 6 and 6 Plus, due to its smaller size.
The iPhone 5S, which currently begins at $450, would likely be discontinued with the iPhone 5se taking its price point in the iPhone lineup, according to Gurman; he also reports that Apple hopes the 5SE will bring about upgrades from the people who currently use an iPhone 5 or earlier.
Only time will tell for this rumor, but Apple's planned March event might have the Watch 2 bringing along a smaller phone friend.
Image credit: Gijs Raggers posting on One More Thing